Stakeholders' Roundtable with the Minister of Livestock and Fisheries in Dodoma
July 4, 2018 - Author: Elizabeth Mwambulukutu and David Nyange
ASPIRES works closely with a cross-section of stakeholders across Agricultural Sector Lead Ministries (ASLMs) with a common goal of contributing towards reducing the policy evidence gap and establishing a foundation for more credible, inclusive, transparent and sustainable policy formulation processes.
Among key Ministries forming the ASLMs is the Ministry responsible for livestock and fisheries subsectors. At the request of the Minister of Livestock and Fisheries, Hon. Luhaga Mpina (MP), ASPIRES and SAGCOT facilitated a roundtable discussion whereby the Minister met with key representatives of a cross-section of the livestock and fisheries subsectors. This was held on 4 July 2018 in Dodoma.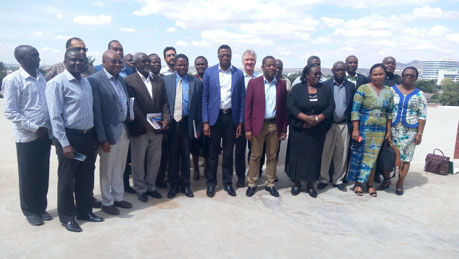 Photo: The Minister of Livestock and Fisheries (center in a light blue jacket) poses for a group photo with participants of the roundtable discussion (credit: Ministry of Livestock and Fisheries)
Tanzania hosts the second largest livestock population in Africa after Ethiopia, with about 28.4 million cattle, 16.7 million goats and 5 million sheep. With a population of 50 million people, it means every Tanzanian could own at least one cattle, a goat or a sheep. Additionally, Tanzania hosts some of the largest fresh lakes in Africa with fresh water such as Lakes Victoria, Tanganyika and Nyasa, as well as a coastline of over 1,500 kilometers.
Despite the vast endowment of these natural resources, the contribution of the livestock sector is only 7.4 percent of the GDP. On the demand size, increased urbanization, rising middle class and tourism are strengthening demand for animal products such as meat, eggs, milk, butter, cheese, and similar protein foods. In response to the high demand for the value-added and perishable products, importation of these products has been rising rapidly. The mismatch between demand and supply of livestock products has created an opportunity for the private sector to invest in value addition by raising improved breeds of livestock (for meat and dairy) and poultry, livestock feeds, processing, aquaculture and cold chains.
The roundtable discussion focused on key issues facing the subsector and among other things, helped to inform challenges faced by agribusinesses in livestock and fisheries, policy and regulatory issues constraining the growth of these sub-sectors. Discussions also focused on steps that the Ministry of Livestock and Fisheries could take in addressing some of the challenges in the short-run and how ASDP II could address existing challenges.
The discussion was moderated by David Nyange, ASPIRES CoP and was attended by a total of 22 key stakeholders including livestock production specialists, livestock and fish feed specialists, operators of dairy farm, milk processing factory and a representative from the ASDP II Coordination Unit.
---