The Farmer Organization Development Strategy (FODS) is Validated
September 6, 2018 - Author: Paida Mpaso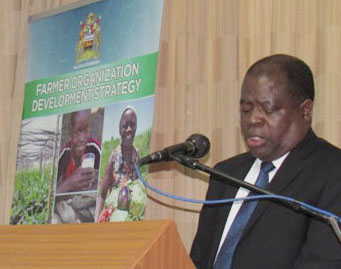 The Ministry of Agriculture, Irrigation and Water Development (MoAIWD) externally validated the Farmer Organization Development Strategy (FODS) on 6th September 2018. The validation workshop took place at Sunbird Capital in Lilongwe, Malawi, and was attended by 66 stakeholders (13 females) from across the agriculture-food sector.
The external validation workshop was preceded by an internal validation by Senior Management in MoAIWD on 3rd September 2018, in Lilongwe. The workshop was attended by 30 participants, including nine Directors from the MoAIWD. Both internal and external validation workshops were chaired by the Secretary for Agriculture, Irrigation and Water Development (MoAIWD), Mr. Gray Nyandule-Phiri. In his remarks, he described the FODS as an "important milestone for the agriculture commercialization objective of the Ministry."
The objective of the FODS is to promote the development of sustainable, professionally operated and market-oriented farmer organizations (FOs) that are contributing significantly to growth and development of the Malawi economy.
The FODS comes after Malawi's efforts in developing various models of FOs had resulted in limited success partly due to the lack of a clear strategy for an harmonized approach to FO development. It is therefore expected that, besides scaling up agriculture commercialization and having strong and sustainable farmer groups, the FODS will also help with increasing farmers' bargaining power, enhancing farmers' access to extension services, input and output markets, and improving social cohesion among farming communities.
The Strategy has seven strategic pillars: Human Resource Development, Leadership and Governance, Production and Productivity, Output Marketing and Markets, Agricultural Financing, Apex Farmer Organization Bodies, and Policy and Legal Framework.
The Farmer Organization Development Strategy (FODS) is one of the 15 "New Alliance for Food Security and Nutrition Cooperation Framework" reforms that the government of Malawi committed to fulfilling in 2013 in order to improve the environment for increased agricultural investments. This is in addition to strategic documents for the agricultural sector (e.g. the National Agriculture Policy (NAP), National Agriculture Investment Plan (NAIP) and Agricultural Extension Review) which mention the development of FOs as being critical for achieving the agricultural transformation agenda for Malawi.

Photo: Mr. Gray Nyandule-Phiri, Secretary for Agriculture, Irrigation and Water Development (MoAIWD), credit: Paida Mpaso

---