The Future of Work: An Interagency Development Economics Seminar
November 28, 2017 - Author: Tom Reardon
By Tom Reardon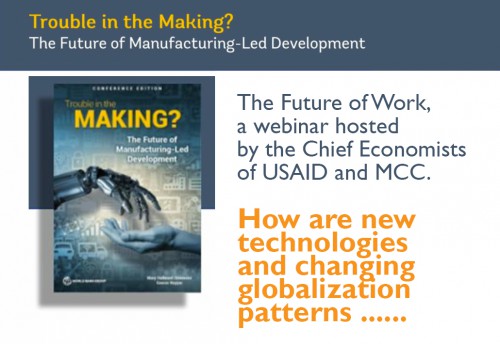 Tom Reardon (C4b, Nigeria, Senegal) spoke at "The Future of Work: An Interagency Development Economics Seminar".
The Chief Economists of USAID and MCC had a half-day seminar on November 15, 2017 to examine how developing countries will continue to grow, create jobs, transform, and reduce poverty when technology and globalization are changing opportunities for industrialization and trade-led growth. The event started with Mary Hallward-Driemeier of the World Bank Group's Trade and Competitiveness Global Practice presented the findings from the recent report, "Trouble in the Making? The Future of Manufacturing-Led Development" in a plenary moderated by USAID Chief Economist Louise Fox.
The talk emphasized the challenges of automation/robots. Debating and discussing the findings and presenting views of their own, MCC Chief Economist and Deputy Vice President Mark Sundberg moderated a panel discussion among:
1. Tom Reardon, AFRE/MSU, discussed the potential for commercial agriculture and agro-business to fuel employment, growth, and poverty reduction in developing countries;
2. Michael J. Ferrantino, World Bank;
3. Carlos Silva Jauregui, World Bank;
4. Louise Fox, implications for skill development and the youth employment challenge.
Webinar; Tom speaks starting at 1:18:02.
---