Training One to Train Others - Capacity Building at Kebbi State University of Science & Technology..
August 8, 2017 - Author: Saweda Liverpool-Tasie
By Saweda Liverpool-Tasie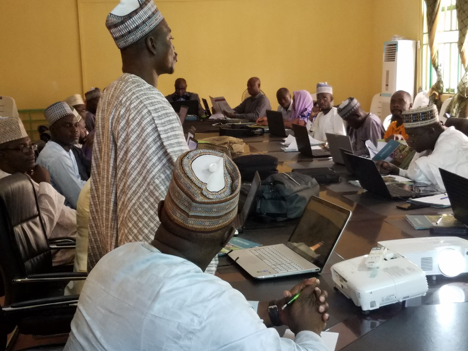 During the week of August 6, 2017, the Policy project organized a two day training on "Introduction to Stata" for Faculty, Researchers and Students of the Kebbi State University of Science & Technology, Aliero. The Training modules were delivered by Mr. Wale Ogunleye (the pioneer PhD Scholar of the Nigeria Agricultural Policy Project Visiting Scholars Program who recently returned from Michigan State University, in May 2017, in collaboration with Dr. Mohammed Ibrahim, a Nigerian Faculty. The Trainers were supported by Messrs. Osayanmon Osawe and Monday Shaibu (both incoming project scholars at MSU). The Vice Chancellor, Dean, Faculty of Agriculture and the Dean, Post Graduate Studies attended the training. The Vice Chancellor of the University gave the opening remarks commending the activity and committing to collaborate with the Policy Project. Participants were exposed to the usefulness of STATA for data analysis and its link to policy research.
Photo: The Vice Chancellor giving his opening remarks at the commencement of the training at Kebbi State University of Science & Technology, Aliero on August 9, 2017
---