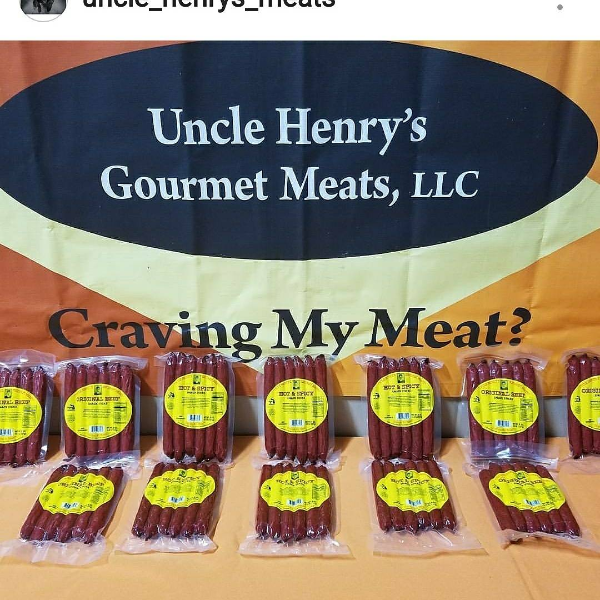 Uncle Henry's Gourmet Meats
DOWNLOAD FILE
Another Making It In Michigan Success Story: Uncle Henry's Gourmet Meats, LLC
Henry Kolbuch has always been an avid deer hunter and made his own venison products. When he started processing deer for family and friends and discovered everyone loved his products, he decided to start a small business. From September through November, the business revolved mostly around deer processing from a leased building in Troy. As customers saw the extra care Henry and his family took in processing their deer and ensuring that they always got their deer back, and, after tasting Henry's products, the referrals starting growing and the deer processing numbers grew.
The family knew they had to operate the rest of the year, so they started offering a variety of beef snack sticks, jerky and smoked sausages. Uncle Henry's Gourmet Meats offers several flavors of 100% beef snack sticks, beef and turkey jerky, summer sausage, smoked polish kielbasa, hot Italian and jalapeno and cheese sausage.
As they started to attend numerous farmers' markets in various cities, they received tremendous feedback on their products which motivated them to grow the brand and the business. After reaching out to the MSU Product Center for help in becoming a USDA certified facility, they recently started going to local stores with samples of the product and are now in over thirty southeastern Michigan locations and are working to increase that number. They also have online ordering at www.unclehenrysgourmet.com.
"The MSU Product Center helped us in achieving our goal to become USDA certified," states Owner Henry Kolbuch. "Time was not an issue - they were always available by phone and very accommodating in coming out to our facility. The Product Center helped us with our nutrition facts and labeling. With their help and knowledge, we were able to create a plan that worked for us. We would definitely use the Product Center for our future business needs and would strongly recommend them."
"It was a pleasure working with Henry and his family. They were committed to putting in the work required to obtain their USDA license. Uncle Henry's Meats has wonderful products and I'm glad they are now able to broaden their reach."
Micah Loucks, Innovation Counselor, MSU Product Center Food • Ag • Bio