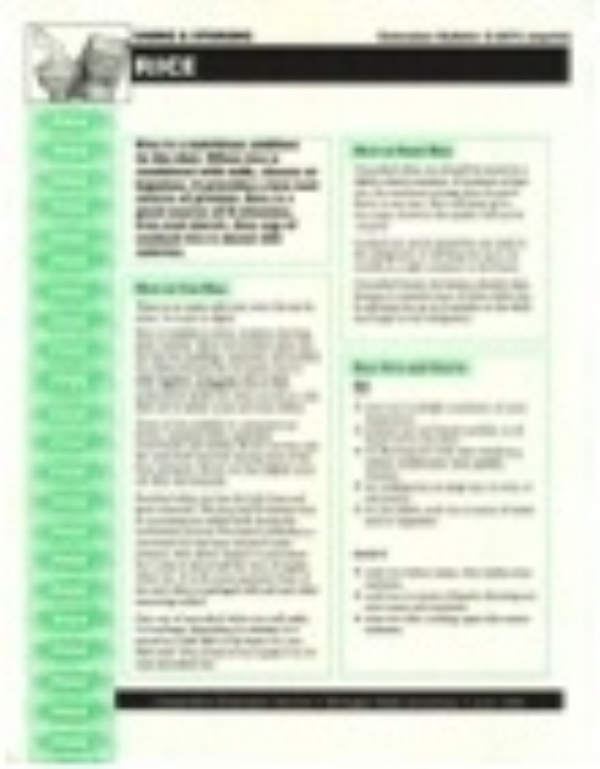 Using and Storing Rice (E2072)
DOWNLOAD FILE
October 14, 2015 - Author: Collette Couchman
Rice is a nutritious addition to the diet. When rice is combined with milk, cheese or legumes, it provides a low-cost source of protein. Rice is a good source of B-vitamins, iron and starch. One cup of cooked rice is about 200 calories.
How to Use Rice
There is no waste with rice; every bit can be eaten. It is easy to digest.
Rice is available in short, medium, and long grain varieties. Short and medium grain rice are best for puddings, casseroles, and molded rice dishes because the rice grains tend to stick together. Long grain rice is often preferred for fluffy rice when served as a side dish and in salads, soups and main dishes.
Types of rice available to consumers are brown, enriched white, parboiled (converted), and instant. Brown rice has only the outer hull removed, leaving most of the bran and germ. Brown rice has slightly more oil, fiber and minerals.
Enriched white rice has the hull, bran and germ removed. The iron and B-vitamins lost in processing are added back during the enrichment process. Processed, parboiled or converted rice has been steamed under pressure, then dried. Instant or precooked rice coods in about half the time of regular white rice. It is the most expensive form of rice and ofte is packaged with salt and other seasonings added.
One cup of uncooked white rice will make 3-6 servings, depending on whether it is served as a side dish or the basis of a one-dish meal. One pound of rice equals 2 to 2 ½ cups uncooked rice.
How to Store Rice
Uncooked white rice should be stored in a tightly closed container. If moisture is kept out, the maximum storage time for good flavor is one year. Rice will keep up to two years, however the quality will not be as good.
Cooked rice can be stored for one week in the refrigerator. It will keep for up to six months in a tight container in the freezer.
Uncooked brown rice keeps a shorter time, because it contains more oil than white rice. It will keep for up to 6 months on the shelf, and longer in the refrigerator.
Rice Do's and Don'ts
Do
Store rice in airtight containers, at room temperature.
Measure rice and liquid carefully, so all liquid will be absorbed.
Try flavoring rice with other foods (e.g. onions, mushrooms, nuts, parsley, cheeses).
Try cooking rice on range top, in oven, or microwave.
Try rice pilafs: cook rice in juices of meats and/or vegetables
Don't
Wash rice before using—this washes away nutrients.
Cook rice in excess of liquid, throwing out extra water and nutrients.
Rinse rice after cooking, again this wastes nutrients
Cooking Times and Yields
| | | | |
| --- | --- | --- | --- |
| 1 cup uncooked rice | Plus this much water | Yields this much cooked rice | Cooking time |
| White | 2 cups | 3 cups | 20 minutes |
| Brown | 2 cups | 3-4 cups | 40 minutes |
| Parboiled (Converted) | 2 ½ cups | 2 ½ cups | 20 minutes |
| Instant | 1 cup | 2 cups | 10 minutes |
Place rice and water in heavy, 2 quart pan, with tight-fitting lied. Heat until water and begins to boil. Reduce heat very low, cover pan and continue cooking for time indicated above. Do not lift lid. When cooking time is up, fluff rice with fork and serve.
To Reheat Cooked Rice:
1) Heat in a double boiler, over hot water. Takes about 10 minutes. OR
2) Place in a heavy pan with a tight lid. Add 1 tablespoon water for each 2 cups rice, cover and heat over low heat for about 8 minutes.
Rice Pudding
2 cups cooked rice
3 eggs, beaten slightly
3 cups milk
½ cup sugar
½ cup raisins
½ teaspoon each cinnamon and nutmeg (optional)
Preheat oven to 300°F. Combine cooked rice, beaten eggs, milk, sugar, and raisins. Pour into buttered 2 qt. baking dish. Sprinkle with cinnamon or nutmeg, if desired. Bake at 300°F for about an hour. Insert a metal knife at edge of pudding to test. Knife will come out clean when done.
Good with milk, for breakfast, snack or dessert. Served hot or cold.
Makes 6 1-cup servings
Vegetable-Fried Rice
2 tsp. vegetable oil
½ cup celery, sliced
¼ cup onion, chopped
1 egg, beaten slightly (optional)
1 ½ to 2 cups any vegetable, sliced or diced
2 cups cooked rice
1 tablespoon Worcestershire sauce
¼ teaspoon garlic powder (optional)
¼ teaspoon salt
Saute celery and onion in hot oil, 2 minutes. Add beaten egg, if used and scramble until cooked. Remove egg mixture. Add vegetables to pan and cook until vegetables are tender-crisp, about 4 minutes. Add rice, egg mixture and seasonings. Heat through. (If you do not use egg, leave celery and onion in pan and add vegetables. Proceed from there.)
Makes 4 1-cup servings.
Next time, try Pork-Fried Rice: use leftover, diced pork instead of vegetables, and soy sauce instead of Worcestershire. Serve with steamed cabbage.
Tuna-Rice Salad
2 cups cooked rice, cooled
2 cans tuna (6-7 oz. each) broken
1 cup cooked peas, drained
½ cup celery, sliced
½ teaspoon pepper
½ cup mayonnaise-type dressing
Stir together rice, tuna, peas, and celery. Add pepper and mayonnaise, and toss with rice mixture. Arrange on lettuce leaves, or fill tomatoes (cut in sixths, almost through).
Makes 8 servings