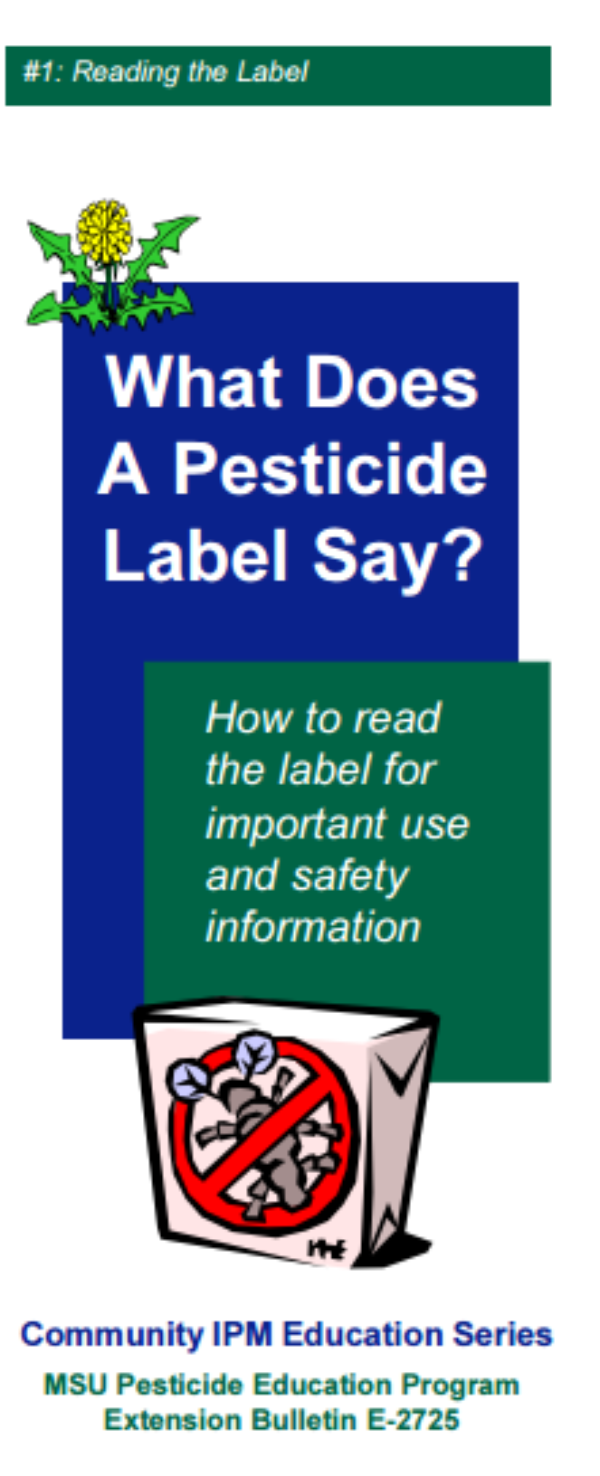 What Does a Pesticide Label Say? (E2725)
DOWNLOAD FILE
September 15, 2016 - Author: MSU Pesticide Education Program
What Does a Pesticide Label Say?
What is a pesticide?
A pesticide is any substance or mixture of substances used to prevent, destroy, repel pests or reduce the damage pests cause.
Common pesticides include household disinfectants such as bleach and kitchen and bathroom cleaners aimed at bacteria. Other common pesticides include those targeted at insects (insecticides), rats and mice (rodenticides), weeds (herbicides), and fungi (fungicides).
What is a pesticide label?
The pesticide label is the information about the pesticide that is printed or attached to the container. All legal pesticides are required by Environmental Protection Agency (EPA) to contain specific information on the label. The sample label in this brochure shows the required information.
When should I read a pesticide label?
Always read the label before buying, using, and storing and disposing of the product.
Can I use more than the label says or apply an outdoor pesticide inside?
NO! All products registered by EPA have been tested for safety and effectiveness, but ONLY if you follow the directions exactly. The label on the product is the law.
What does the Signal Word mean?
The signal word indicates how toxic (poisonous) the pesticide is to humans. "Caution" is the least toxic, "Warning" slightly more toxic, and "Danger-Poison" the most toxic.
How do I know if I am using a legal pesticide?
All pesticides sold in the U.S. must comply with the requirements of the Environmental Protection Agency (EPA). Most products are registered directly with the EPA and contain their stamp of approval, an EPA Registration Number, on the label.
Some newer products may contain active ingredients that are considered "minimum risk". These are exempt from EPA registration, but must still comply with minimum EPA standards. These products will not have an EPA number.
Additionally, all pesticides must be sold in the manufacturer's original, unopened container with a complete label. It is illegal to sell pesticides in containers without a complete label.
If you have any doubts that a pesticide is legal, please contact the Pesticide Section of the Michigan Department of Agriculture (MDA) at 1-800-292-3939.
Where can I find more technical information on a specific pesticide?
The National Pesticide Telecommunications Network (NPTN) provides general pesticide information as well as pesticide toxicology and poisoning information. NPTN is funded by EPA and can be reached 7 days a week at 1-800-858-7378 or on the web at http://ace.orst.edu/info/nptn
If you suspect a pesticide poisoning, contact the MI Poison Control System 1-800-POISON1 (1-800-764-7661)
---