Urban Collaborators
Mission
To promote healthy and sustainable communities within our core cities through applied, practical and neighborhood-based solutions.
Urban Collaborators (UC) aims to address specific topics that affect the vibrancy of our core city neighborhoods with reference to smart growth, livability and community-based social and economic policies that build from within and cater, primarily, to current residents. Within this framework, the UC will address issues of work and entrepreneurship, use of urban buildings and space, organizational capacity building, reinforcing ethnic neighborhoods, creating safe environments and promoting basic community needs, such as housing, food, education, safety, the sustainable built environment and protection of natural resources.
The focus of UC is on key urban anchors, along Michigan's major transportation corridors, including I-96, I-94 and I-75. These communities include Battle Creek, Benton Harbor, Detroit, Flint, Grand Rapids, Hamtramck, Highland Park, Jackson, Kalamazoo, Lansing, Muskegon, Pontiac, Port Huron, Saginaw and Ypsilanti.
Work Plan
Outcome I
To build the capacity of local organizations to address urban issues that focus on health and the sustainability of neighborhoods.
Inputs
Mini-grants to MSU Extension educators working with specific Community-Based Organizations (CBOs) on well-defined projects. Three to four mini-grants of up to $5K will be awarded (competitively amongst our core communities) each year.
Outputs
Create an MSU Extension Bulletin that describes the issue, demonstrates best practices and transfers results into lessons learned and/or how to guides
Outcome II
To enhance the linkage between the research and outreach resources of the University and the urban community development needs of Michigan's urban core cities.
Inputs
Create teams of research faculty, MSU Extension educators, community leaders and students to focus on particular topical areas, and create capacity building and educational material that can be disseminated to a wider audience through bulletins, newsletters and short publications. Provide research and administrative support for up to two research teams each semester. These teams would work on practical, community-based issues.
Summer Internships
Summer internships, administrative support and small budget for faculty and field mentor. Each core community will be eligible for an intern provided they propose a relevant project and agree to create the required outcomes.
Practicum Projects
Students work directly with communities on relevant Practicum course projects, and create reports and presentations that can be disseminated through the website. Five to six projects will be supervised and supported each year (Matching funds of $3,000-$5,000 will be required from participating communities.).
Outputs
Explore new grant opportunities for further research, apply for a small grants, create research synergies that can be taken further, and create one publishable article or bulletin.
Outcome III
To engage scholars and urban communities in ways that translates into new knowledge.
Inputs
Provide research and administrative support for up to two research teams each year. Research teams must include campus-based faculty and an MSU Extension educator. Support one 20-hour research assistant and apply for additional external research funds. Provide professional development support to field staff and research faculty engaged around urban communities with urban collaborators.
Outputs
Create research bulletins on one to two topical areas within the larger mission; organize a small conference on the topical areas; present research at the annual MSU Extension conference; write an article for appropriate research journal, such as the MSU Extension Journal.
You may also download the UC Logic Model for more information about program development, implementation and evaluation.
Contact Us
Co-Directors
Marie A. Ruemenapp
Extension Educator
MSU Tollgate Education Center
28115 Meadowbrook Rd
Novi, MI 48377
Office: (248) 380-9100 ext 228
Cell: (989) 284-6443
Fax: (248) 380-9194
ruemenap@anr.msu.edu
Zenia Kotval, PhD, FAICP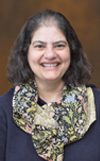 Professor, Urban & Regional Planning Program
MSU School of Planning, Design and Construction
Human Ecology Building
552 W. Circle Dr, Rm 404
Office: (517) 353-9362
Fax: (517) 432-8108
Email: kotval@msu.edu