Evenings in the Garden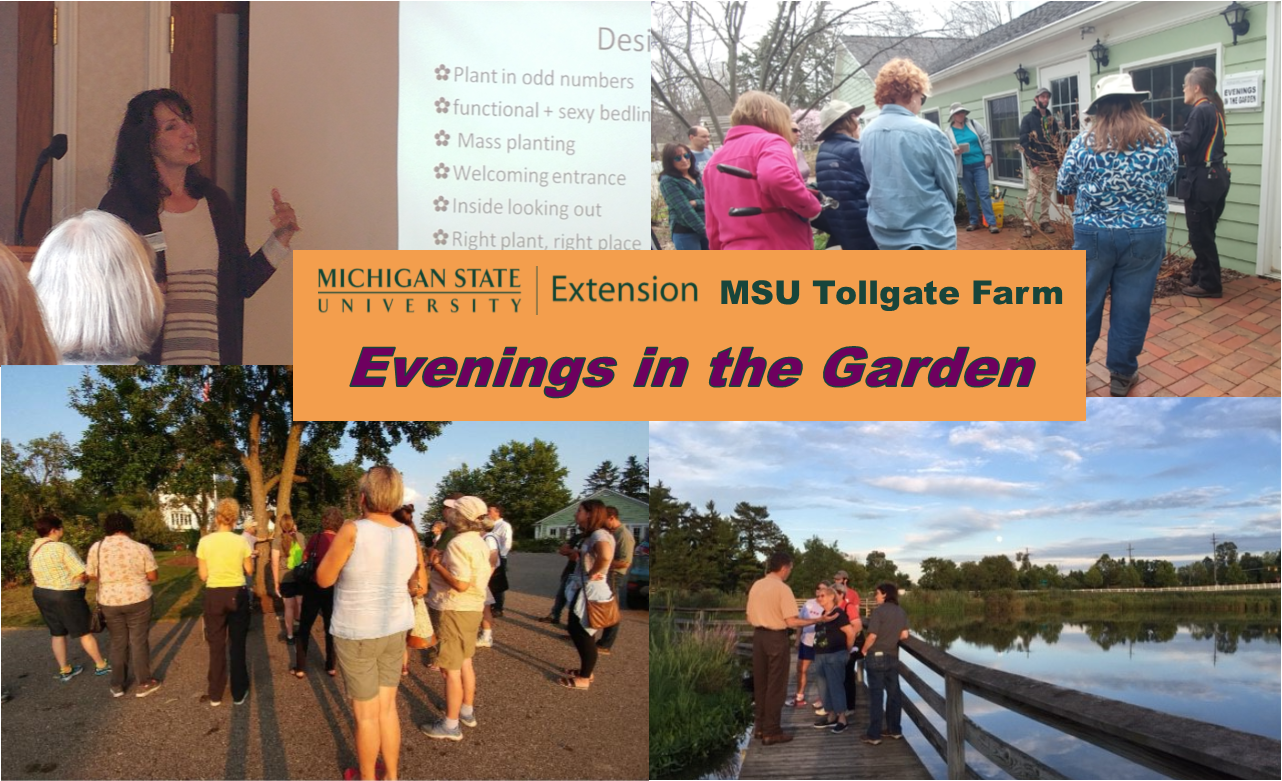 Traditional Lecture Series
The traditional Evenings in the Garden series places a focus on a wide range of gardening and environmental topics hosted by regional experts. These sessions are held on Thursdays, 6:30 p.m. - 8:30 p.m. All sessions will be held digitally. A video link will be sent prior to the session and a recording will be made available after the meeting. We currently have four sessions scheduled, see listings below. The cost is $10 per session or $35 for all four sessions. Preregistration required. For questions please contact Katie Gallagher at galla301@msu.edu.
Click Here to Register for Evenings in the Garden
February 25 - Ana Heck - Getting Started with Beekeeping *LIVE lecture only, will NOT be recorded
Are you curious about what it takes to become a beekeeper? Learn about the many factors to consider before deciding if beekeeping is right for you. This presentation will cover the first steps for getting started with beekeeping, basic honeybee biology, and steps everyone can take to support pollinators.
March 11 - Jan Coppola Bills - Comfort, Ease, and Simplicity
Gardens should be our love, not our labor of love! Discover how sustainable gardening includes a variety of practices that respond to environmental concerns. These practices are used in every stage of gardening including design, planting and maintenance. Together we will develop a shift in perspective as we explore how to garden with comfort, ease and simplicity. Jan Coppola Bills is the author of Late Bloomer, a certified landscape designer, advanced master gardener and entrepreneur. After a successful career in the corporate world, she made a major life reassessment and followed her heart: She traded in her heels for Wellies and started the Detroit-area landscape design company Two Women and a Hoe® (twowomenandahoe.com).
April 15 - Dr. Bert Cregg, Professor of Horticulture and Forestry - Christmas Tree Production in Michigan
Michigan ranks third in the US in Christmas tree production and Christmas trees are grown in nearly every county in the state. Michigan's Christmas tree industry is diverse and ranges from small-scale choose-and-cut operations to some of the largest wholesale producers in the country. In this presentation, Dr. Bert Cregg, Professor of Horticulture and Forestry at Michigan State University and Christmas tree Extension Specialist, will discuss the current state of the Christmas tree industry in Michigan and the challenges that growers face in growing a conifer seedling to the 8'-tall Christmas tree in your living room.
April 29 - Dr. Wynne Wright, Associate Professor, Dept. of Community Sustainability - A New Way to Farm: Why is Lavender Farming Growing in Michigan?
Dr. Wright covers the growth and popularity of lavender farming in Michigan from an agri- sociological perspective. With personal experience as a lavender farmer herself, Dr. Wright includes guidance on how to get started growing and marketing the popular aromatic plant.
MSU is an affirmative-action, equal-opportunity employer. Michigan State University Extension programs and materials are open to all without regard to race, color, national origin, gender, gender identity, religion, age, height, weight, disability, political beliefs, sexual orientation, marital status, family status, or veteran status.