Evenings in the Garden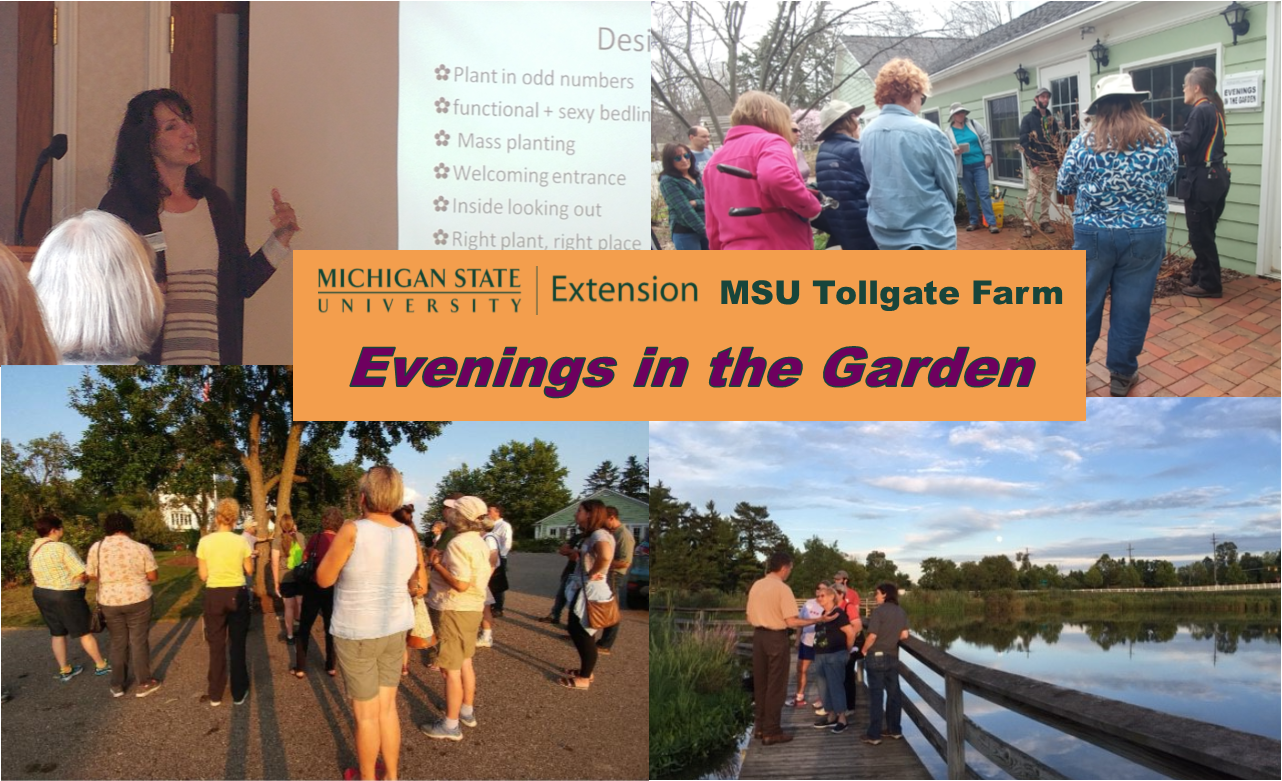 Traditional Lecture Series
The traditional Evenings in the Garden series places a focus on a wide range of gardening and environmental topics hosted by regional experts. These sessions are held on Thursdays, 6:30 p.m. - 8:30 p.m. All sessions will be held digitally. A video link will be sent prior to the session and a recording will be made available after the meeting. We currently have four sessions scheduled, see listings below. The cost is $10 per session or $35 for all four sessions. Preregistration required. For questions please contact Katie Gallagher at galla301@msu.edu.
Click Here to Register for Evenings in the Garden
September 10 - Dr. Tyler Bassett - Native Grasslands of Michigan: Acting in the Interest of Prairies and Savannas
The tall-grass prairie and savanna grasslands of North America are among the most critically imperiled ecosystems in the world. Dr. Bassett will discuss efforts to restore the remnant examples of these ecosystems in Michigan which provide habitat for the many rare species that depend upon them. Dr. Bassett is a botanist and plant ecologist and works for MSU Extension and on the Michigan Natural Features Inventory.

October 15 - Jae Gerhart - The impacts of Covid-19 on Local Food Systems
Food systems are made up of many interconnected businesses and processes which support our food supply. The elements of food systems include agricultural production, food transport, processing, distribution and commerce to consumption and many others. Jae Gerhart, the Food Systems Coordinator at MSU Extension - Washtenaw County, will discuss how Covid-19 related closures and mobility restrictions have led to disruptions to the regions economy and food supply.

October 29 - Angie Lucas - Ferntastic!
Learn some fascinating facts about ferns of the NW Lower Peninsula by joining us for a presentation by Angie Lucas, Senior Land Steward and botanist at the Grand Traverse Regional Land Conservancy, as she presents an overview of the native fern species found in the Grand Traverse region and how land protection and stewardship efforts benefits rare and declining species, as well as some identification tips and resources to use while exploring the northern forest and wetland trails of northwest lower Michigan. Additionally learn how GTRLC uses various tools like floristic quality assessments to prioritize restoration, protection and other nature preserve projects.

November 12- Will Jaquinde - Integrative Pest Management for Home Gardens
Tollgate's own Sustainable Agriculture Instructor Will Jaquinde leads this session on pest management. You will learn how to identify common pest problems in your garden and determine the best control with the least harm to non-targeted species.
Three-part Special Series on Race, Food, & Land in Detroit
Across the United States black farmers and black communities face major barriers related to farmland acquisition and achieving food sovereignty. These issues often go unseen and need to be discussed. MSU Extension and MSU Tollgate Farm will be facilitating a three-part lecture series to highlight the past, present, and future projections of race relations in Detroit and how race has impacted land acquisition and food sovereignty. Each session will consist of a team of MSU Extension facilitators joined by panelists from across the Detroit food systems landscape to share their lived and learned experiences. Registration fees, minus the cost of stipends for the panelists, will go toward initiatives that support the needs of Black/African-American farmers in Detroit.
Individual sessions are $10 each or $25 for all three.
For questions please contact Mike Mathis at mathismi@msu.edu.
If you would like to attend but are unable to contribute financially, we have two scholarships opportunities available on a first come first serve basis.
If you are a food and farm entrepreneurs please contact Jamie Rahrig rahrigj1@msu.edu with the Michigan Good Food Fund.
If you have other outstanding financial need please contact Mike Mathis mathismi@msu.edu with MSU Tollgate Farm.
Pre-registration is required.
Sessions will be held via Zoom with a link provided upon registration.
Each session is eligible for 2 hours of continuing education for Extension Master Gardeners.
Click Here to Register for the Race, Food, and Land Series
July 30th, The History of Urban Agriculture and Racism in Detroit:
Gain a clear and accurate historical overview of how race relations in Detroit impacted land acquisition and food systems. Highlight and uplift historical Black/African American voices regarding lived experiences in relation to race, land, and food within Detroit.
August 27th, Present-Day Food Sovereignty and Equitable Food Access in Detroit:
Learn about Detroit based organizations doing urban agricultural work to strengthen food access and food sovereignty. Examine social, economic, and political barriers to land ownership and equitable food access.
September 24th, Envisioning the Future of Food and Farming in Detroit:
Articulate action items that can support the work of grassroots organizations within Detroit tackling the issues of food, land, and racial equity. Envision what needs to change, grow, or "be weeded out" to bring forth food sovereignty in Detroit.
MSU Extension Session Facilitators
Alondra Alvizo - MSU Product Center Innovation Counselor
Naim Edwards - Director of the Detroit Partnership for Food, Learning, and Innovation
Mike Mathis - Director of MSU Tollgate Farm and Education Center
MSU is an affirmative-action, equal-opportunity employer. Michigan State University Extension programs and materials are open to all without regard to race, color, national origin, gender, gender identity, religion, age, height, weight, disability, political beliefs, sexual orientation, marital status, family status, or veteran status.