Evenings in the Garden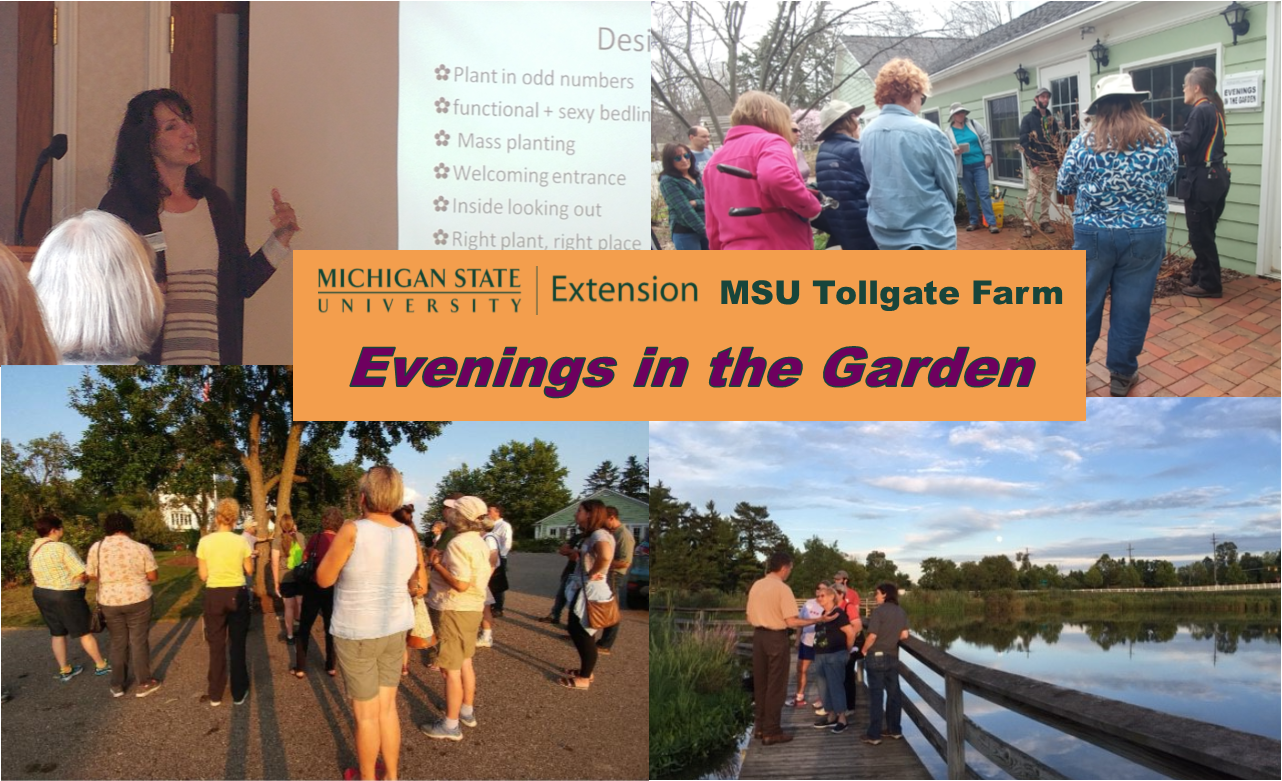 Evenings in the Garden is a series of classes for beginner and experienced gardeners, homeowners, landscapers, and outdoor enthusiasts - taught by favorite regional experts - held at the beautiful, historic MSU Tollgate Farm.
*New* Fall Schedule below

***
28115 Meadowbrook Rd, Novi, MI 48377
Advance registration required
$20. each session

Light snacks and beverages provided
Questions?
Contact: S. K. Rosina Newton
newtons5@anr.msu.edu
248-347-0269 ext. 229
---
*NEW* Evenings in the Garden Fall Season 2018
Registration for fall season:
https://events.anr.msu.edu/evenings2018fall/
September 27 – Malik Yakini - What's Race Got to Do With Food?
October 25 – Steven Nikkila – Photo Tour of World Gardens
November 8 – Lisa Steinkopf - Cultivating Your Green Thumb – Indoors!

September 27 – Malik Yakini - What's Race Got to Do With Food? How far do you have to travel to reach your closest full-scale grocery store? Are you aware that there are neighborhoods in Detroit where 48% of households lack physical or financial access to safe and nutritious food every day? Meet Malik Kenyatta Yakini, the cofounder and executive director of the Detroit Black Community Food Security Network (DBCFSN). The DBCFSN operates the beautiful seven-acre D-Town Farm and they initiated the Detroit Food Policy Council. In addition, Yakini is spearheading the opening of a grocery store in Detroit's North End – the Detroit People's Food Co-op. In Malik's Evenings in the Garden program, exploring the work of DBCFSN will also serve as a lens to discuss larger issues of systemic oppression including racism/white supremacy, land ownership/wealth disparity, and patriarchy. He views the "good food revolution" as part of the larger movement for freedom, justice, and equality. https://www.dbcfsn.org/

October 25 – Steven Nikkila – Photo Tour of World Gardens Steven Nikkila takes us through beautiful gardens near and far. Enjoy the sights and also the tips on design, planting, pruning, and how to make the most out of any garden visit. Steven Nikkila has planted, maintained, and photographed gardens and landscapes since 1983 and is co-owner of Perennial Favorites, a garden and design firm. Steven has taught courses in everything horticultural, including photography, at Master Gardener conferences, community education organizations, and botanical gardens. http://gardenatoz.com/

November 8 – Lisa Steinkopf - Cultivating Your Green Thumb – Indoors! This presentation includes information about the benefits plants provide and the best plants for cleaning the air. It also covers all aspects of taking care of your houseplants, including re-potting, up-potting, container choice, potting medium, light, water, fertilizing and propagation. This is a great "Houseplants 101" class for beginners, and a refresher course for those who live in an indoor jungle. Lisa is the author of Houseplants, The Complete Guide to Choosing, Growing and Caring for Indoor Plants and has a second book coming out in spring 2019. She is known as The Houseplant Guru, having hundreds of houseplants in her home and sunroom, many over 30 years old. Lisa is a Certified Indoor Landscape Technician, a Certified Green Industry Professional, and a Michigan Certified Nurseryman. http://www.thehouseplantguru.com/
MSU is an affirmative-action, equal-opportunity employer. Michigan State University Extension programs and materials are open to all without regard to race, color, national origin, gender, gender identity, religion, age, height, weight, disability, political beliefs, sexual orientation, marital status, family status, or veteran status.