View information by type
Curious how much milk the average dairy cow produces each day?
Dairying has come a long way since every family had a cow or two! If you want to be part of the dairy industry of the future, you have to prepare yourself for all phases of dairy technology. In a 4-H dairy cattle project, you'll explore the technology related to the production, manufacturing and marketing of dairy products, and learn about scientific dairy research and related agribusinesses.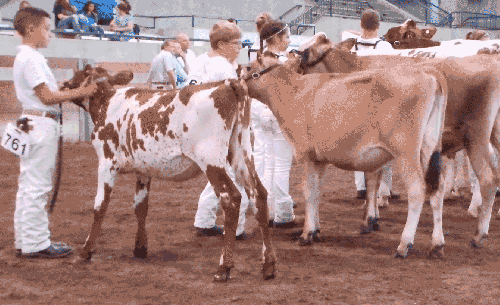 Agriculture is a big player in Michigan's economy and future prosperity—and dairy is an important part of agriculture. Working on 4-H dairy projects could do more than get you a ribbon at the county fair. It could give you a start on a great career!
Contact
For more information on how to get involved as a youth or volunteer, contact your county MSU Extension office or,
Melissa Elischer, 4-H Dairy Cattle Extension Educator
Email: elischer@anr.msu.edu
Phone: (517) 432-4306
MSU Department of Animal Science
Web: http://www.ans.msu.edu/
News