Identifying weeds in Christmas trees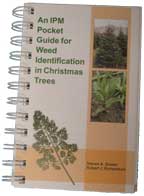 The information presented here about weed identification in Christmas Trees was developed from the publication An IPM Pocket Guide for Weed Identification in Christmas Trees by Steven A. Gower and Robert J. Richardson.
This plastic-coated scouting guide with its 3.5" X 5.0" pages fits in your pocket for easy use in the field. It contains many color pictures and descriptions. Purchase the guide from MSU Extension (publication E2975).
For reference:
Common weeds in Christmas trees
Identify weeds by:
Common name
Scientific name