Garlic Mustard
View information by type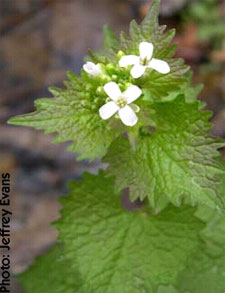 Garlic mustard is an exotic invasive plant from Europe that invades woodland habitats in North America and impacts forest biodiversity. In some woodlands, dense stands of garlic mustard in the spring threaten showy spring blooming ephemerals like spring beauty, trilliums and trout lilies. Other research points toward potentially negative impacts on timber species and forest health. Many land managers consider it to be one of the most potentially harmful and difficult to control invasive plants in the region.
This site is intended to help you identify garlic mustard and learn about its biology, potential impacts and management. It is also the gateway for information on Michigan State University's garlic mustard research program.

Recent postings
Information prepared by: Doug Landis, Jeff Evans, Department of Entomology, Michigan State University. Funding support: Michigan Department of Agriculture and Rural Development – Pesticide and Plant Pest Management Division, AgBioResearch, and MSU Extension.