4-H Great Lakes campers experience, explore Great Lakes fisheries science and careers
Youth experience science and ecology, fun and food values of our Great Lakes fisheries, among their many hands-on learning opportunities offered during the 2013 4-H Great Lakes and Natural Resources Camp.
Charter fishing on Lake Huron is a fantastic recreational experience for youth who may have never before ventured out onto Great Lakes waters. The fish they catch offers a hook to learn about fish biology paired with a personal understanding of the values of these Great Lakes fish, providing both fun and food. Teens wading inland rivers and lakes, accompanied by fisheries scientists, explore diverse aquatic habitats and species of fish swimming these waters. It is undoubtedly a hands-on experience that will never be forgotten. With these scientist mentors, youth get a chance to explore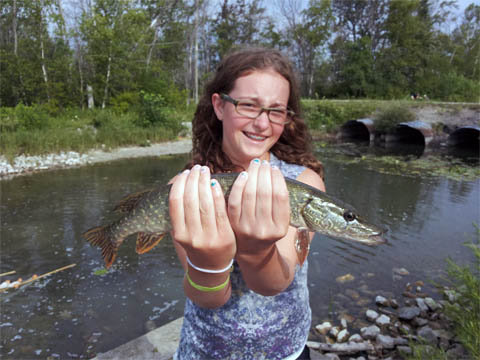 fisheries science careers, while learning the ecological importance these fish play as part of healthy ecosystems.
These opportunities, among others, are exactly how 70 teens from across Michigan spent their week in northeast Michigan participating in the statewide 4-H Great Lakes and Natural Resources Camp (GLNR). The 4-H GLNR Camp, held annually in Presque Isle County, provides hands-on, feet-wet learning experiences engaging youth in exploring science, leadership, and careers (and, of course, recreation) relating to Michigan's Great Lakes and natural resources. During this week-long natural resources leadership experience, Michigan teens participate in science sessions relating to local woodlands and wildlife, Great Lakes coastal habitats, invasive species, wetlands, watersheds, fisheries, and more. The 4-H GLNR Camp teaches more than just science — it also fosters awareness and appreciation of the diverse values Michiganders have toward our Great Lakes resources.
Early morning fishing for smallmouth bass or walleye in Lake Esau, the lake on which the camp resides, is a daily part of the camp experience. In addition, all first-year campers have a big water experience heading out onto Lake Huron to go charter fishing with local captains from the Michigan Charter Boat Association. This offers a recreational experience with a twist of science— learning fish biology and anatomy— while learning to clean and process their fish. During the week, campers have a chance to enjoy the recreational values offered by fisheries, and even have a chance to taste test some of the fish they caught, driving home the values of fish as a local and healthy food source along with the fun in catching.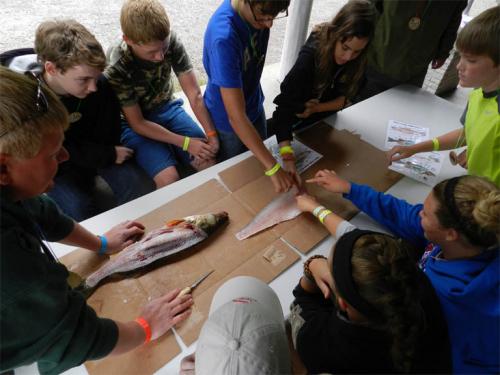 Return campers explore inland waterways, taking on the role of fisheries scientists for the day while exploring diversity of fish (and their habitats) living in the river, lake and coastal great lakes aquatic habitats. Working alongside resource professionals from the Michigan Sea Grant and Michigan State University Department of Fisheries and Wildlife graduate students, campers explore the diversity of fish and aquatic ecosystems found throughout Michigan – from inland lakes, rivers, and streams to our Great Lakes. After a crash course in fisheries science from the professionals, they set out to explore the broad diversity of life found in our Great Lakes aquatic ecosystems. While sampling fish and recording data, campers study the habitats where these fish live and identify the many ways in which people are connected with these fisheries.
Camp is also a chance to apply science, technology and math skills while exploring Great Lakes careers. As a pre-college program, this camp offers a great science inquiry experience, career learning, and community leadership opportunities all relating directly to the Great Lakes and natural resources we enjoy across Michigan. For example, taking on important and real-world issues, campers continued a study of biodiversity of fish found in local Lake Esau that was initiated by last year's campers. Aimed at the issue and local impacts of invasive species, their investigation continues to seek and to better understand the long term impacts that newly discovered (and invasive) round gobies may have on the diversity of native fish within the lake on which their Camp resides.
The 4-H GLNR Camp is sponsored by Michigan 4-H Youth Development of the Michigan State University Extension Children and Youth Institute, the Michigan 4-H Foundation, Michigan Sea Grant Extension, Michigan Charter Boat Association, and MSU Department of Fisheries and Wildlife, among others. Visit the 4-H GLNR Camp website to learn more.