Brown marmorated stink bug in Michigan 2013 update
An invasive pest, the brown marmorated stink bug has now been found in 12 of 68 Lower Peninsula counties. MSU will continue to trap and monitor in 2013.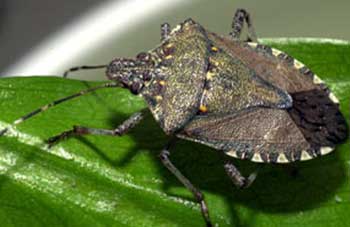 The first brown marmorated stink bug (BMSB), Halyomorpha halys (Stål), officially identified in Michigan was found in Berrien County in 2010. A student taking an entomology course that required an insect collection had included it with his other insects. Sometime later, as the instructor was evaluating each collection for a grade assignment, he recognized the specimen as BMSB and sent it on for positive identification. The following year, this invasive pest was found for the first time in Eaton, Genesee, Ingham, Lenawee and Monroe counties. Then in 2012, it was first reported in the counties of Allegan, Clinton, Kent, Oakland, Oceana and Wayne. So far, BMSB has been detected in 12 of 68 Michigan's Lower Peninsula counties. No reports have come from the Upper Peninsula.
This summarizes the Michigan discoveries of BMSB to date, but each year additional reports have come from several of the counties already reporting them, this being especially true for Berrien County. Within Berrien County, Stevensville, Mich., and the surrounding area has been the source for numerous homeowner nuisance pest complaints in which BMSB has been identified as the culprit. BMSB aggregates to overwinter and will gather in groups to spend the winter in houses, among other places. This is the same behavior exhibited by Asian ladybird beetles, chinch bugs, boxelder bugs and western conifer seed bugs.
Michigan State University's tree fruit research group initiated a monitoring survey using light and pyramid traps in 2011. No BMSB were captured during that first year. In 2012, three specimens were collected in our light traps from two locations in Berrien County. Two of the specimens came from a light trap on the outskirts of Stevensville, Mich. No BMSB were recovered from light traps deployed in Kent, Ottawa, Newago and Monroe counties.
Given the numerous reports of stinkbugs from the Stevensville, Mich., area, it's likely the region will be the first to experience populations that impact the local agriculture. It's not possible to predict when this will occur, but it's a good idea for growers in southwest Michigan to be on the alert for this pest and knowledgeable about management options. An overview of BMSB biology and management can be found on pages 66-67 in the Michigan State University Extension bulletin, 2013 Michigan Fruit Management Guide (E-154).
Ideally, growers and consultants should be able to identify the BMSB. It will require using magnification to see important characters. Read the MSU Tree Fruit Brown Marmorated Stink Bug fact sheet to become familiar with what to look for.
There are some native stinkbugs that could be confused with BMSB. Use this BMSB key to assist in differentiating them from BMSB. Specimens should be kept in a plastic bag in a freezer or placed in a container with isopropyl alcohol to preserve them until they can be passed along to an expert for positive identification.
A routine of regularly checking for these pests in orchards is very important. Edge monitoring should be sufficient since the insect moves from overwintering locations and native or ornamental plant feeding locations to invade an orchard. Monitor both for the insect and for signs of fruit injury. Infestations can occur at any time from about June through September. Researchers are currently trying to understand what factors influence the movement of this pest. Repeated infestations of the same orchard occurring within the same field season are not unusual with this insect.
Once discovered, an infestation should be watched closely and careful thought put into insecticide treatment options. Consideration should be given to other pest and beneficial insects which may be present at the same time. Materials with the shortest preharvest interval should be saved for potential late season use.
Because BMSB has already been a serious agricultural pest in several other states, primarily in the mid-Atlantic region, university and USDA personnel have generated a substantial amount of chemical efficacy data. Entomologists at MSU have been adding to this knowledge base by conducting their own insecticide bioassays. BMSB chemical management information for tree fruit producers is available in the 2013 Tree Fruit Management Guide and can be readily found on the websites for other states and the USDA research laboratory in Kearneysville, W.Va.
We will continue to trap and monitor for BMSB in 2013 in many areas of the state. Our attention will be focused on the Stevensville, Mich., area to determine when movement occurs from overwintering locations into the surrounding habitats. Updates regarding this pest will be reported throughout the season through MSU Extension Fruit & Nuts News and MSU's Brown Marmorated Stink Bug website. If you find BMSB in your orchard you should let your local Extension educator know and email Mike Haas with "BMSB report" in the subject area.
Photo credit: David R. Lance, USDA APHIS PPQ, Bugwood.org
Dr. Gut's work is funded in part by MSU's AgBioResearch.