Brown marmorated stink bugs: Resources for identifying them and their hosts
An identification guide for brown marmorated stink bugs is now available online, as well as an extensive list of host plants.
Brown marmorated stink bugs are an exotic pest of fruits, vegetables, soybeans, field corn and many ornamental plants. They were first discovered in Michigan in 2010 and, as of April 1,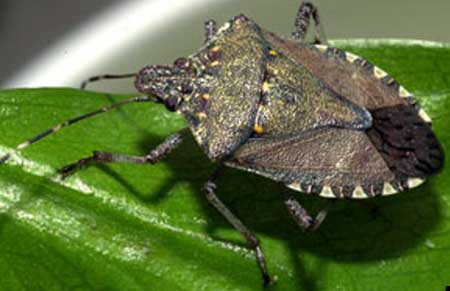 2013, have been confirmed in nine counties by Howard Russell, entomologist at Michigan State University Diagnostic Services. So far, its presence in Michigan has been primarily as a nuisance pest in homes rather than as an agricultural pest.
According to Michigan State University Extension, an excellent resource for identifying stinkbugs of economic importance, including brown marmorated stink bugs, was published as a field guide by Virginia Tech several years ago. The 40-page guide, titled "Field Guide to Stink Bugs of Agricultural Importance in the Upper Southern Region and Mid-Atlantic States" is now available for download. The guide has good photos and descriptions of egg nymph and adult stages for economically important species, less common species and beneficial species, along with photos of feeding damage on several economic crops.
I have been asked which plants are reported hosts for brown marmorated stink bugs, and it has been difficult to find this information. What I find most often is a list of a dozen or so common economic crops and a vague reference to about 300 hosts. I finally came across a more complete list (still not 300) in a presentation called "The Brown Marmorated Stink Bug (BMSB) in Oregon," by Helmuth Rogg of the Oregon Department of Agriculture. The list (Fig. 1) shows some 128 reported hosts for brown marmorated stink bugs including a number of weeds as well as economic and ornamental plants. Tree of Heaven, Ailanthus altissimus, has been reported as a host, although it is missing from this list.
Fig. 1. Known host plants for brown marmorated stink bug, Halyomorpha halys
| | | | |
| --- | --- | --- | --- |
| Common name | Scientific name | Common name | Scientific name |
| Abelia, Glossy | Abelia x grandiflora | Honeysuckle | Lonicera |
| Apple | Malus domestica | Honeysuckle, Tartarian | Lonicera tatarica |
| Apple | Malus pumila | Jerusalem Artichoke | Helianthus tuberosus |
| Apricot | Prunus | Jetbead | Rhodotypus scandens |
| Apricot, Japanese | Prunus mume | Jujube | Ziziphus sativa |
| Ash, Green | Fraxinus pennsylvanica | Kiwi | Actinidia deliciosa |
| Ash, Oregon | Fraxinus oregona | Laurustinus | Viburnum tinus |
| Ash, White | Fraxinus americana | Lilac | Syringa |
| Asparagus | Asparagus officinalis | Magnolia, Star | Magnolia stellata |
| Basswood | Tilia americana | Malabar spinach | Basella rubra |
| Bean, Bush & Kidney | Phaseolus vulgaris | Maple, Bigleaf | Acer macrophyllum |
| Bean, Lima | Phaseolus lunatus | Maple, Hedge | Acer campestre |
| Bean, Long | Vigna unguiculata sesqipedalis | Maple, Japanese | Acer palmatum |
| Bean, Pole | Phaseolus vulgaris | Maple, Norway | Acer platinoides |
| Beet, Sugar | Beta vulgaris | Maple, Red | Acer rubrum |
| Birch | Betula sp. | Maple, Sugar | Acer saccharum |
| Bittersweet | Celastrus | Mountain Ash | Sorbus |
| Blackberry | Rubus | Mulberry | Morus |
| Blueberry | Vaccinium | Mullein, Woolly | Verbascum thapsus |
| Buckthorn | Rhamnus | Nightshade | Solanum |
| Burcucumber | Sicyos angulatus | Nightshade, Black | Solanum nigrum |
| Burdock | Arctium minus | Oregon Grape | Mahonia aquifolium |
| Butterfly Bush | Buddleia davidii | Paulownia | Paulownia catalpifolia |
| Cantaloupe | Cucumis melo | Paulownia | Paulownia elongata |
| Catalpa | Catalpa speciosa | Paulownia | Paulownia fortunii |
| Cedar | Cedrus | Paulownia | Paulownia kawakamii |
| Celosia | Celosia argentea | Pea | Pisum sativum |
| Cherry, Black | Prunus | Peach | Prunus persica |
| Cherry, Sour | Prunus | Pear, Asian | Pyrus pyrifolia |
| Cherry, Sweet | Prunus avium | Pear, European | Pyrus communis |
| Chokecherry | Prunus virginiana | Pecan | Carya illinoiensis |
| Chrysanthemum | Chrysanthemum | Pepper | Capiscum annuum |
| Citrus | Citrus | Periwinkle | Catharanthus roseus |
| Coleus | Coleus blumei | Persimmon | Diospyros |
| Comfrey | Symphytum officinale | Persimmon, Japanese | Diospyros kaki |
| Corn, Sweet | Zea mays | Plum | Prunus |
| Crabapple | Malus | Plum, Ornamental | Prunus |
| Cranberrybush, American | Viburnum opulus v. americanum | Princess Tree | Paulownia tomentosa |
| Cucumber | Cucumis sativus | Privet | Ligustrum |
| Dahlia | Dahlia | Raspberry | Raspberry |
| Dogwood, Gray | Cornus racemosa | Rape | Brassicus napus |
| Dogwood, Red Osier | Cornus sericea | Redbud | Cercis canadensis |
| Eggplant | Solanum melongena | Rose, Rugosa | Rosa rugosa |
| Elderberry | Sambucus | Rose of Sharon | Hibiscus syriacus |
| Euonymus | Euonymus | Russian Olive | Eleagnus angustifolia |
| Euonymus, Winged | Euonymus alatus | Serviceberry | Amelanchier canadensis |
| Filbert, Turkish | Corylus colurna | Siberian Pea Shrub | Caragana arborescens |
| Fig | Ficus | Soybean | Glycines max |
| Firethorn | Pyracantha | Spider Flower | Cleome hasslerana |
| Golden Chain Tree | Laburnum anagyroides | Spiraea | Spiraea |
| Golden Rain Tree | Koelreuteria paniculata | Strawberry Tree | Arbutus unedo |
| Grape (Cultivated, Table) | Vitis | Sumac | Rhus |
| Grape (Cultivated, Wine) | Vitis | Sunflower | Helianthus |
| Grape (Wild) | Vitis | Sweetgum | Liquidambar |
| Hackberry | Celtis occidentalis | Sycamore | Platanus occidentalis |
| Harlequin Glorybower | Clerodendron trichotomum | Tomato | Solanum lycopersicum |
| Hawthorn | Crataegus | Viburnum, Blackhaw | Viburnum prunifolium |
| Hibiscus | Hibiscus rosa-sinensis | Viburnum, Tea | Viburnum setigerum |
| Hinoki cypress | Chamaecyparis | Walnut, Black | Juglans nigra |
| Holly | Ilex | Watermelon | Citrullus lanatus |
| Holly, American | Ilex opaca | Willow, Pussy | Salix |
| Holly, Winterberry | Ilex verticillata | Zelkova | Zelkova |
| Honeyberry Bush | Lonicera kamchatika | Zinnia | Zinnia |
Photo credit: David R. Lance, USDA APHIS PPQ, Bugwood.org