Certified Natural Shoreline Professional 2013 attracts contractors working on inland lake shorelines
Now in its fourth year, natural shoreline certification training brings in participants from 14 Michigan counties and from Wisconsin and Indiana.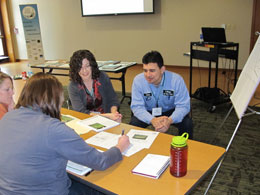 The three-day classroom component of Certified Natural Shoreline Professional (CNSP) certification training was conducted in Paw Paw (Feb. 5-7) and at Kensington Metropark near Milford (Feb. 19-21). Michigan State University Extension serves as the educational lead for this intensive four-day training program.
The programs in Van Buren and Oakland counties attracted 38 participants representing 14 Michigan counties and attendees from as far as Wisconsin and Indiana.
A popular feature of the classroom component is the daily small group design activities. Each group is assigned a different shoreline property on a Michigan inland lake and progresses through the steps of assessing erosion potential, designing native plant landscaping and designing bioengineered erosion control. The last step is to conform their designs to the requirements for a Michigan Department of Environmental Quality permit under the Inland Lakes and Streams Program (Part 301, Act 451 of 1994).
Using software that allows for instant response to large group questions, participants digitally answered pre- and post-test questions to assess changes in their knowledge, their understanding of course content and their confidence in addressing future natural shoreline projects. Highlights of the program evaluation results are include:
The 38-person group reported that they increased knowledge of technical course content by 35 percent.
The number of participants describing their understanding of the impacts of shoreline practices on inland lake ecosystems as "high" or "very high" increased by 131 percent.
The number of participants describing their confidence to design a natural shoreline landscape as "high" or "very high" increased by 81 percent.
The number of participants describing their confidence to design bioengineered shoreline erosion control as "high" or "very high" increased by 69 percent.
In June, participants in CNSP 2013 will return for their certification exam and hands-on field experience – constructing a natural shoreline demonstration site on lakefront property owned by the Village of Paw Paw in Van Buren County. In addition to hosting this year's CNSP demonstration sites, the village paid for three key landscape personnel to attend the training. At a village council meeting the following week, the staffers reported on their classroom learning, new ideas for more lake-friendly management of the village's extensive lakefront, and they're anticipation of the upcoming natural shoreline project.
Village Manager Larry Nielsen said hosting CNSP 2013 had already paid off in the way his staff had responded positively to the training.
Certified Natural Shoreline Professional is the flagship program of the Michigan Natural Shoreline Partnership and has been conducted eight times since 2010. To date, CNSP has attracted 206 contractors. Participant satisfaction with the three-day classroom component, as indicated by post-test responses, continues to be high with over 60 percent of respondents indicating the training had "exceeded" or "far exceeded" their expectations.
Photo: Juan Vasquez, Village of Paw Paw Department of Public Services (right) participates in a natural shoreline design activity during CNSP training, February 5-7, 2013.