Cool fossils! Students bring geology to life
Digging Rocks! Students from Alpena Public Schools help to create a community geology exhibit promoting school and community learning and tourism development opportunities through the "cool fossils" of northeast Michigan.
If you visit Alpena, look to discover an impressive geology exhibit— free to the public —at the Besser Museum for Northeast Michigan. The exhibit, with a quarry-like feel, serves to educate the community about the unique local geology and cool fossils of the area. You may be more impressed to learn that Alpena Public Schools' students helped in the development of this exhibit. Students partnered with the museum to create educational lessons and activities, as well as identification and signage for the displays.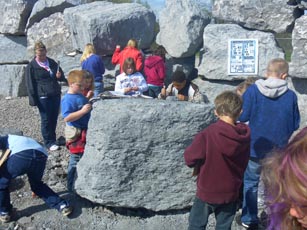 With funding and professional development support from the Northeast Michigan Great Lakes Stewardship Initiative (NE MI GLSI), the educator team and students worked with a planning committee to co-design this place-based project. Partners from the Besser Museum for Northeast Michigan, Michigan Sea Grant, Lafarge North America (Alpena Plant), Alpena Community College, Moran Iron Works, Specification Stone Products, and others met regularly to develop this educational exhibit.
Because of its unique geology, educators and students quickly identified northeast Michigan as a geological and fossil-finding mecca. Students often hear from community members that "we've wanted to do this for years" or "an exhibit like this is long overdue for northeast Michigan." The students' work with Besser Museum continues to be a source of community pride, interest, and opportunities. It has promoted a greater awareness about and brought interpretive education to the area's geological uniqueness, benefiting residents and the tourism industry, alike.
Chris Witulski, from Besser Museum, linked the school project team with the wealth of partners who contributed to this project. Witulski points out, "It has been amazing to see the community get behind the students' work on this project. The result of their work will not only provide a meaningful learning experience, but result in an amazing educational exhibit for the community!"
The students who helped with the project will not be the only students using the exhibit. In the future, Alpena Schools' third and sixth grade elementary students may also contribute to and use the exhibit for field trips. Geology instructors from Alpena Community College are hoping to use the exhibit for field trips because of its close proximity to campus. To extend learning beyond the museum exhibit, the planning committee has talked about developing a tour map that shows regional fossil exploration opportunities at nearby fossil hot spots, such as at the state-managed Rockport area along Lake Huron's coastline. The ultimate hope is that residents and tourists would visit the exhibit and benefit in learning more about the unique geology and cool fossils of Alpena and northeast Michigan.
For more information about the Northeast Michigan Great Lakes Stewardship Initiative (NE MI GLSI) and place-based, community-based education programming partnerships with Alpena Public Schools, visit the NE MI GLSI website.
This article was co-authored by Brandon Schroeder, Sea Grant Extension Educator and Anne Negro (former Huron Pines AmeriCorps Member in service of the Northeast Michigan Great Lakes Stewardship Initiative; currently a teacher at Bingham Arts Academy in Alpena, Michigan).