Plant science at the dinner table: cranberries
Cranberries are colorful, healthy and can be used in a variety of ways, in both recipes and decorating for the holidays.
Cranberries are popular during the holidays and can be used in sauces, breads, and other desserts. They also have a fascinating history, have many other uses and are good for you.
History of cranberries
According to Cape Cod Cranberry Growers Association, cranberries have a long and interesting history and were a staple in the diet of Native Americans. They are one of the three fruits commercially grown that can trace its origin back to North America. (The other two are Concord grapes and blueberries.)
Cranberries are native to North America.
Cranberries were grown by Native Americans, using them for food, fabric dye and medicinal purposes.
Cranberries were derived from the word "craneberry" as the cranberry flowers resembles the head and bills of Sandhill cranes.
How cranberries grow
To see how cranberries grow, watch the following video from The Kid Should See This: Cranberries: How Does It Grow? Here are a few fun facts about growing cranberries:
Cranberries do not grow in water.
Cranberries grow in bogs, which are beds layered with peat, sand, and clay.
Cranberry bogs are flooded two times a year, once during winter to keep plants insulated from the cold and once at harvest time as berries float to the water's surface for an easier harvest.
Cranberry vines can grow indefinitely; some commercial vines in Massachusetts are over 150 years old.
Cranberries are good for you
Cranberries are considered a superfood because of their high nutrient content and antioxidant properties. According to Cranberries: Health Benefits, Health Risks from Medical News Today, some of the proven health benefits of eating cranberries are:
Improved immune function
Lower risk of urinary tract infections
Decreased blood pressure
Prevention of certain types of cancer
For more information on the health benefits of cranberries, visit WebMD's Cranberry page.
Eating cranberries
Cranberries are delicious, colorful, and good for you, but getting kids to try cranberries is a different story. Cranberries are very tart and do not lend themselves to snacking in their natural state. They are available fresh, frozen and dried, and can be used in a variety of recipes that kids will like to make and eat. Some examples include:
Cranberry bread
Cranberry salsa
Cranberry sauce
Dried cranberries, marketed as Craisins (trademark Ocean Spray)
Here is my family's favorite recipe for cranberry bread.
Ingredients
2 cups flour
1 cup sugar
1 1/2 teaspoons baking powder
1 teaspoon salt
1/2 teaspoon baking soda
3/4 cup orange juice
1 tablespoon grated orange peel
2 tablespoons melted butter
1 egg, well beaten
1 1/2 cups cranberries
1/2 cup chopped nuts (optional)
Directions
Preheat oven to 350 degrees Fahrenheit. Grease a 9 x 5-inch loaf pan.
Mix together flour, sugar, baking powder, salt and baking soda in a medium mixing bowl. Stir in orange juice, orange peel, shortening and egg. Mix until well blended. Stir in cranberries and nuts. Spread evenly in loaf pan.
Bake for 55 minutes or until a toothpick inserted in the center comes out clean. Cool on a rack for 15 minutes. Remove from pan; cool completely. Wrap and store overnight. Makes 1 loaf (16 slices).
PER SERVING (1 slice): Calories 211, Fat Calories 54, Protein 3 grams, Carbohydrate 37 grams, Fat 6 grams, Cholesterol 18 milligrams, Sodium 313 milligrams.
Cranberries for decorating
Cranberries can also be used for holiday decorating indoors and out. Here are a few ideas we came up with to use cranberries for decorating our home for the holidays.
Floating in water with candles
Holiday candle accent
Strung in garland
Strung outdoors in garland as well as a treat for the birds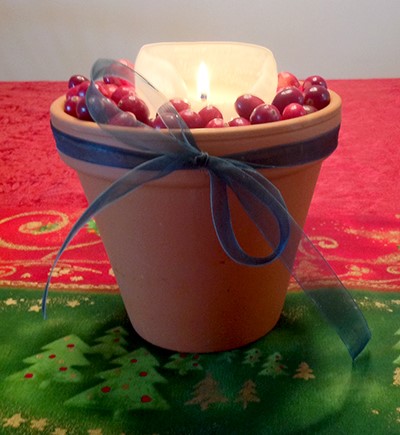 Enjoy some bright, bold and beautiful cranberries!
For other Michigan State University Extension articles on plant science at the dinner table, see: