Drones in agriculture and hands-on drone training
Training programs tie how to fly Unmanned Aerial Systems, or drones, together with data collection and geographic data analysis.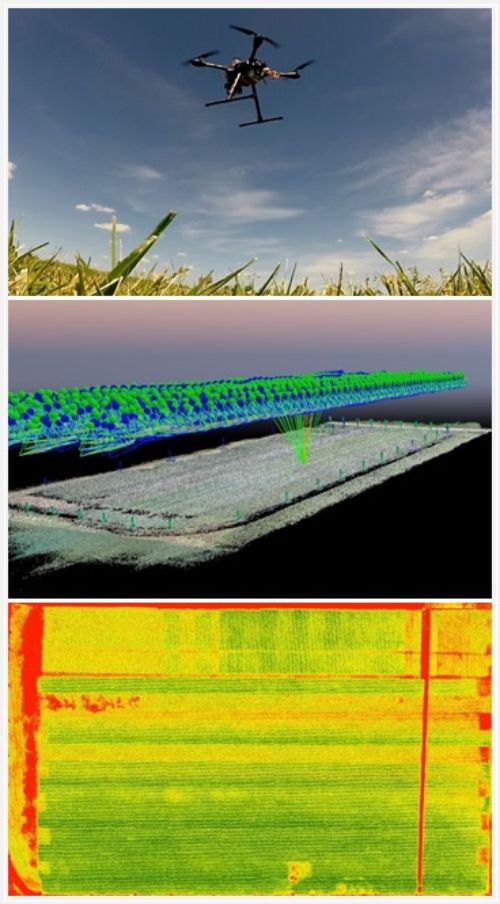 If you haven't noticed that Unmanned Aerial Systems (UAS), otherwise known as drones, have been impacting the agriculture industry lately, it may be time to crawl out of your winter hibernation. Drones are everywhere in the agricultural landscape and are being used to determine plant health, inventory plants, collect farm asset information, assess crop damage and even determine areas of low soil moisture. This information is proving useful to agricultural professionals in the context of precision agriculture and farm management.
This revolution is being fueled not only by advancements in drone platforms, but by improved sensors as well. Numerous lightweight cameras are now available that capture reflected light energy beyond that which is visible to the human eye. Reflected energy in areas called the Red-Edge and Near-Infrared are particularly useful for agricultural activities.
For images from drones to be the most useful, it is necessary to process the data and then display or analyze it in something called a Geographic Information System (GIS). In a generic sense, this means putting the data into a map. Once images from drones have been processed and layered in a GIS, numerous opportunities for analysis become available.
For example, imagine a series of photographs, or even a video, of a corn field that is experiencing an outbreak of corn rootworm. The static images and video would help the farmer or crop service vendor identify generally where the damage is occurring. However, it would be very difficult to identify the exact location and quantify the damage. If this same imagery were processed and added to a mapping program, it would be possible to precisely determine the location and extent of the outbreak. This location information could then be imported into the navigation system of a GPS-enabled spray rig to treat the specific area.
Another example might involve a Christmas tree farm. Imagery by itself would not be terribly useful for counting trees and estimating height would be even more difficult. By processing the imagery and utilizing tools in a GIS, it is not only possible to count all the trees quickly through automated routines, but also determine the height of each tree.
While many workshops exist that teach professionals how to fly drones, training opportunities that tie together data collection and geographic data analysis are rare to nonexistent. This is unfortunate since drone imagery by itself is not terribly useful. To educate professionals on the entire drone workflow, Michigan State University's Remote Sensing and Geographic Information System (RS&GIS) has teamed up with MSU's Institute of Agricultural Technology and Northwestern Michigan College Aviation to offer a three-day, Hands-On Drone-to-GIS workshop focused on the process of using drones to collect, process and analyze data. This course, which is taught by experts in the fields of GIS and aviation, will teach participants the following:
Current Federal Aviation Administration (FAA) regulations and requirements for obtaining an FAA Remote Pilot Certificate.
How to plan and execute autonomous drone missions.
Manual operation of multi-rotor drones.
Processing imagery into usable products.
Basics of visible and near-infrared (VNIR) remote sensing as it relates to vegetation and land use.
Display and analysis of drone data using commercial and free GIS software.
The Hands-On Drone-to-GIS workshop is appropriate for everyone wishing to deploy drones in their business. No experience is required, but a basic comfort with technology is recommended. Several workshops will be offered April through September 2017 at MSU or Northwest Michigan College. Visit the Hands-On Drone-to-GIS workshop registration page for dates, location or to register. You can also contact me at 517-432-0879 or goodwinr@msu.edu.