Feeding round bales to horses during drought
Michigan horse owners should consider feeding round bales this winter if there is a hay shortage due to drought.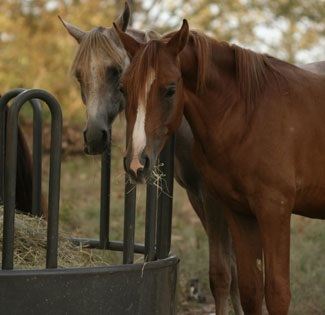 Photo: Round bale feeders designed for horses can help reduce hay wastage.
There may be more round bales of hay (800 – 1,200 pounds) available for purchase than small square hay bales (40 – 80 pounds) as we approach the winter months. Usually, hay prices are lower if you purchase hay by the ton than by the number of small square bales, especially if the bales are light weight. Four to seven horses can consume a round bale in seven to ten days. Newly designed round bale feeders for horses have been shown to decrease hay loss while ensuring fresh hay is offered, even in inclement weather. Research indicates that a good round bale feeder can pay for itself in two years, due to decreased hay wastage. Large bales need to be stored indoors, unless they are well wrapped. Due to their size, a tractor or a skid loader is required to move round bales.
To learn more by reading the University of Minnesota Extension article, Selecting a Round Bale Feeder for Use During Horse Feeding.
Related Michigan State University (MSU) Extension News articles:
Additional information: