First spotted wing Drosophila weekly report for 2017
Some traps in the network are already capturing SWD flies at low levels. Monitor for this pest when crops are starting to become susceptible.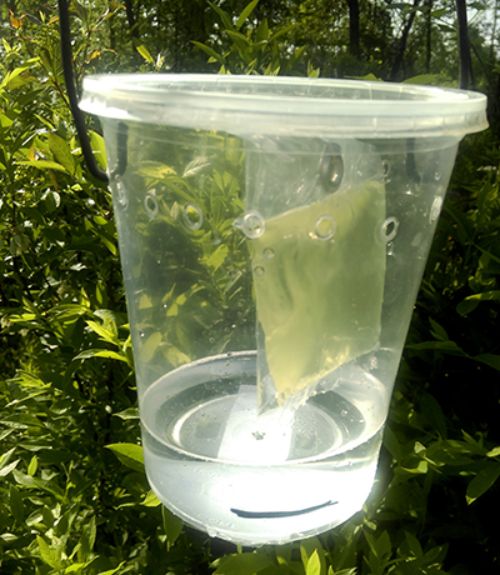 Michigan State University Extension fruit team members started monitoring for spotted wing Drosophila (SWD) across the fruit producing regions of Michigan. Trapping has begun in half of our sites with the rest of the traps coming online within the next couple of weeks.
The mild winter appears to have brought on some early activity. About 10 percent of traps have caught adult SWD flies but with an average of less than one SWD fly per trap. Although the catches are low, this year's first capture of SWD is a full month earlier than last year and the earliest recorded since SWD was first detected in Michigan in 2010.
Comparing the first catch date for SWD in monitoring sites that have the same trap design with the same bait in the same locations, it is clear there has been a trend towards earlier first catches after longer growing seasons (in 2013 after the 2012 season) and after mild winters (in 2017 after the winter of 2016).
Year – First catch
2011 – August 7
2012 – June 3
2013 – May 26
2014 – June 15
2015 – June 28
2016 – June 19
2017 – May 19
While we are still learning from experience what makes a more challenging year for SWD management, these early catches indicate 2017 is likely to be a year with higher than normal SWD pressure. Growers of susceptible fruit should be prepared to manage this insect through their harvest season.
The majority of the traps this season are standard deli cup-style traps baited with the commercial Scentry brand lure (see photo). Traps that have been catching SWD flies during the last couple of weeks are placed in blueberry (six sites), tart cherry (13 sites) and peach (one site) blocks in Allegan, Benzie, Berrien, Mason, Oceana, Ottawa and Van Buren counties.
Ripening fruit in these counties may be at risk of infestation by this pest, and growers of June bearing strawberries need to monitor for this pest in traps and in their fruit as harvest progresses this month.
Counties included in the 2017 trapping network are Allegan, Antrim, Benzie, Berrien, Grand Traverse, Ingham, Ionia, Kent, Leelanau, Lenawee, Livingston, Macomb, Manistee, Mason, Mecosta, Monroe, Montcalm, Muskegon, Oceana, Ottawa and Van Buren. All traps in the network will be baited with commercially available lures and placed in susceptible crop fields or orchards or in a location adjacent to susceptible crops. Most of the traps will be in areas where SWD infestation has been recorded in the past.
For more information on SWD, including how to identify, monitor and manage this pest in fruit crops, please visit the MSU Spotted Wing Drosophila webpage.