Food for the holidays: Latkes
Latkes are potato pancakes that are a traditional food served during the Hanukkah celebration.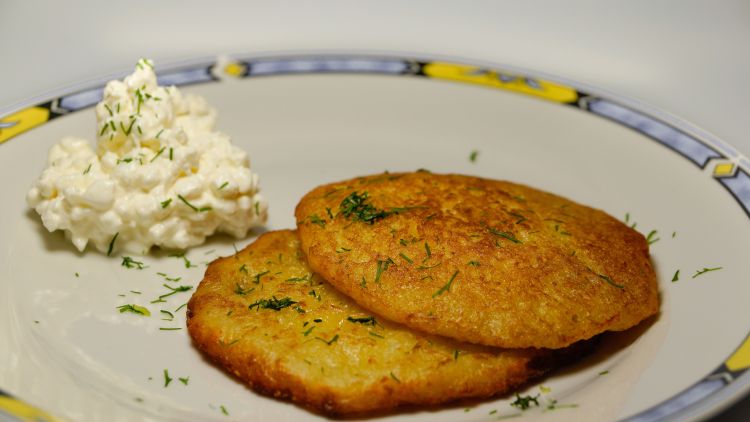 The holidays are here and with all the fun and festivities, it is a great time to do some dinner table plant science. With all the foods and traditions, it is the perfect time to try new fruits and vegetables, making it a ripe time for learning. Getting kids involved in preparing holiday foods helps teach them about traditions and culture, and creates a sense of belonging. You can throw in some plant science, kitchen chemistry, math and other fun stuff while building memories together.
Latkes are on the menu today. Latkes are potato pancakes that are a traditional food served during the Hanukkah celebration. Latkes are made of potato, Matzah (unleavened bread) or breadcrumbs, onion and always fried in oil. (For more information, see History's video on Hanukkah.) Oil played a significant role in the Hanukkah story. The small jug of oil miraculously provided fuel for the Temple Menorah for eight days. To symbolize this, it is a Jewish tradition to eat oily foods that reflect the significance of the holiday.
As mentioned before, latkes are made from potatoes. Irish potatoes grow underground, but are not roots (sweet potatoes are roots). They are actually specialized underground stems called tubers. Tubers are very swollen parts of the underground stem and it serves the plant as a place for food storage for the plant. Tubers are also cut apart to create new plants. This is called asexual reproduction. Other tubers people eat include cassava, taro, jicama, and Jerusalem artichoke.
If you are not familiar with latkes, try the latke recipe below from About Religion for your family to try. Kids love to grate the potatoes, cut up onions, measure and mix the ingredients, but supervision is needed when frying the latkes.
Ingredients
7-8 large russet potatoes, peeled
1 1/2 medium onions
6 large eggs, beaten
3/4 cup matzo meal or bread crumbs
2 1/4 teaspoons kosher salt
1/2 teaspoon black pepper
3/4 cup canola oil (for frying)
Applesauce and sour cream, for serving
Directions
Grate the potatoes and onion into a bowl or pulse in food processor (careful not to puree it). Drain any excess liquid from the bowl and add the eggs, matzo meal, salt and pepper. Mix all of the ingredients together to thoroughly combine them.
In a large skillet, heat the oil over medium-high heat. Spoon the latke mixture into the hot oil forming small pancakes, using 3-4 tablespoons of batter for each pancake. Cook until the underside is golden, about 2 to 3 minutes. Flip the latke over and cook until the other side is golden and the potatoes are cooked through, about 2 more minutes.
One way to tell that your latkes are done is by sound: When it stops sizzling, it's time to flip it over. Allowing a latke to remain in the oil after the sizzling has stopped will result in greasy, oil-logged latkes, which are not what you want.
When done, remove the latkes from the oil and transfer them to a plate lined with paper towel to drain. Pat off the excess oil once they have cooled a bit, then serve hot with applesauce or sour cream.
It is fun for kids to learn about other cultures, the foods they eat and what role particular foods play in holiday traditions. Enjoy your latkes!
For other Michigan State University Extension articles on plant science at the dinner table, see: