Food for the holidays: Sugarplums
Sugarplums are a holiday treat kids will enjoy making.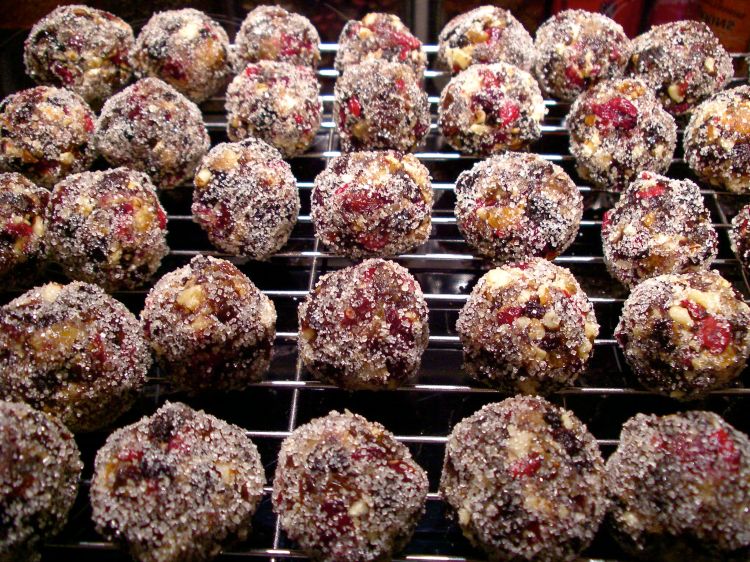 The holidays are here and with all the fun and festivities, it is a great time to do some dinner table plant science. With all the foods and traditions, it is the perfect time to try new fruits and vegetables, making it a ripe time for learning. Getting kids involved in preparing holiday foods helps teach them about traditions and culture, and creates a sense of belonging. You can throw in some plant science, kitchen chemistry, math and other fun stuff while building memories together.
Many of us during this season have fond memories of hearing or reading the poem "'Twas the Night Before Christmas." This is one of the oldest and most popular Christmas poems ever written. The poem is attributed to Clement Clarke Moore, but his claim to writing it has been disputed. You can read more about it at "Who Really Wrote 'Twas the Night Before Christmas?" by Mental Floss. Line six of the poem reveals sweet dreams of children, stating, "While visions of sugarplums danc'd in their heads." Sugarplums are also referenced in Tchaikovky's Russian Christmas ballet with the Dance of the Sugarplum Fairy.
But what are sugarplums?
Not dried plums covered in sugar, as one would think.
According to the Oxford English Dictionary, a sugarplum is a seed, nut or scrap of spice coated with a layer of hard sugar. In the 17 century, caraway, fennel, coriander and cardamom seeds along with walnuts, almonds, ginger, cinnamon and anise seeds were popular centers for sugarplums. The process of making sugarplums took hours and sometimes days to complete, making them expensive and only eaten by children of wealthy families.
Today, older kids will enjoy making their own sugarplums. The following is a sugarplum recipe from Food Network that uses actual plums, or rather dried plums known as prunes, nuts and a variety of seeds. This recipe also contains many of the seeds as ingredients once used to make the historical candied sugarplums.
Sugarplum recipe
Ingredients
6 ounces slivered almond toasted
4 ounces dried plums (prunes)
4 ounces dried apricots
4 ounces dried figs
1/4 cup powdered sugar
1/4 teaspoon anise seeds, toasted
1/4 teaspoon fennel seeds, toasted
1/4 teaspoon caraway seeds, toasted
1/4 teaspoon ground cardamom
Pinch kosher salt
1/4 cup honey
1 cup course sugar
Directions
Put the almonds, plums, apricots and figs into the bowl of a food processor and pulse 20 -25 times until the fruit and nuts are chopped into small pieces, but before the mixture becomes a ball.
Combine the powdered sugar, anise seeds, fennel seeds, caraway seeds, cardamom and salt in a medium mixing bowl. Add the nut and fruit mixture and the honey and mix using gloves until well combined.
Scoop the mixture into 14/ ounce portions and roll into balls. If serving immediately, roll in course sugar. If not eating immediately, put the balls on a cooling rack and leave uncovered until ready to serve. Roll in sugar prior to serving.
Sugarplums may be stored on the cooling rack for up to one week. After a week, store in an airtight container for up to a month.
More about plums
Plums or prunes have had an image problem for many years, but now prunes are taking a respectable place in the super food category. Prunes are a great antioxidant, good for your heart and help build strong bones. Plus they taste great.
There are also lots of great recipes featuring prunes and plums. Plums are a type of fruit called a drupe, which means it has a center seed or pit. These fruits are also called stone fruits. Other examples of stone fruits are peaches, cherries and avocados. For more information, see Plums and Prunes from the World's Healthiest Foods website.
Sugarplums are a great snack for kids to make during the holidays and a great way to get them to taste new foods. They could also share them with friends and neighbors with a copy of the poem "'Twas a night before Christmas."
For other Michigan State University Extension articles on plant science at the dinner table, see: