Food for the holidays: Sweet potatoes
Sweet potatoes are commonly found in many holiday meals, especially during Kwanzaa celebrations.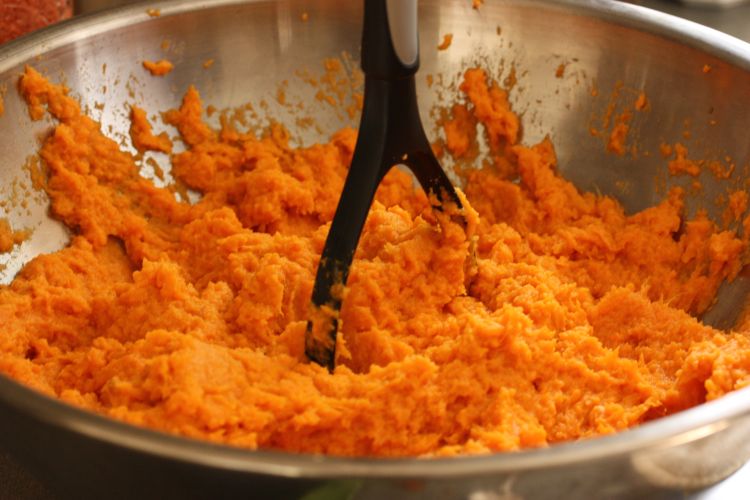 The holidays are here and with all the fun and festivities, it is a great time to do some dinner table plant science. With all the foods and traditions, it is the perfect time to try new fruits and vegetables, making it a ripe time for learning. Getting kids involved in preparing holiday foods helps teach them about traditions and culture, and creates a sense of belonging. You can throw in some plant science, kitchen chemistry, math and other fun stuff while building memories together.
For seven days starting Dec. 26-Jan. 1, millions of African Americans celebrate Kwanzaa. Kwanzaa is not a religious holiday and does not replace Christmas. This holiday was created in 1966 by Maulana "Ron" Karenga, a professor of black studies, to celebrate and honor values and culture inspired by ancient cultures. For more information on Kwanzaa, see A Great Kwanzaa Fest by Epicurious and The Official Kwanzaa Website.
The seven days of Kwanzaa are:
Day 1: Umoja means unity.
Day 2: Kujichagulia means self-determination.
Day 3: Ujima means working together.
Day 4: Ujamaa means supporting each other.
Day 5: Nia means purpose.
Day 6: Kuumba means creativity.
Day 7: Imani means faith, especially faith in ourselves.
The name Kwanzaa comes from the Swahili phrase "matunda ya kwanza," which means "first fruits of the harvest." For thousands of years, Africans celebrated year-end harvests. Food is an important part of the seven days of celebrations. Most people who celebrate Kwanzaa end on the last day in a celebration feast. One of the foods eaten at most Kwanzaa celebrations are sweet potatoes. Here are a few quick facts about sweet potatoes for kids according to "The Sweet Potato" by Purdue University:
Sweet potatoes have beautiful flowers and are in the same family as morning glories.
Sweet potatoes are an edible part of its swollen storage root, unlike the Irish potato, which are underground stems known as tubers.
The color of the skin and flesh ranges from white to orange to red, depending on the cultivar.
Sweet potatoes are referred to as "dry-fleshed" or "moist-fleshed." This refers to how they feel in your mouth, not the moisture present in the root.
Moist-fleshed convert more of their starch to sugars during cooking, becoming softer and sweeter than the dry-fleshed types.
Moist-fleshed sweet potatoes are often called "yams." However, the true yam is an entirely different plant species, grown only in tropical climates.
Sweet potatoes are high in nutrients, especially vitamins A and C.
Kids will have fun making sweet potato casserole – mashing the potatoes up is always the best part. Research show kids are more likely to taste new foods if they help prepare them. Encourage kids to share some of the fun facts they learned about sweet potatoes at the dinner table.
Sweet potato casserole recipe
Ingredients
2 and 1/2 pounds sweet potatoes (about 3 large), scrubbed
2 large eggs, lightly beaten
3 tablespoons unsalted butter, melted, plus more for the preparing the pan
2 tablespoons packed dark brown sugar
1 teaspoon kosher salt
1/2 teaspoon ground cinnamon
1/2 teaspoon ground ginger
Pinch freshly grated nutmeg
Freshly ground black pepper
1/4 cup coarsely chopped pecans
Instructions
Preheat the oven to 400 degrees Fahrenheit. Put the sweet potatoes on a baking sheet and pierce each one 2 or 3 times with a fork.
Bake 45 to 50 minutes or until tender. Set aside to cool.
Turn the oven down to 350 F. Scoop the sweet potato out of their skins and into a medium bowl. Discard the skins. Mash the potatoes until smooth.
Add the eggs, butter, brown sugar, salt, cinnamon, ginger, nutmeg and pepper to taste. Whisk mixture until smooth.
Butter an 8-by-8-inch casserole. Pour the sweet potato mixture into the pan and sprinkle the top with the pecans. Bake until puffed, about 30 minutes. Serve immediately.
Enjoy your sweet potatoes!
For other Michigan State University Extension articles on plant science at the dinner table, see: