Food service director helps ensure greater access to school meals
Local spotlight interview with Kalkaska Public Schools Food Service Director, Christine Luce.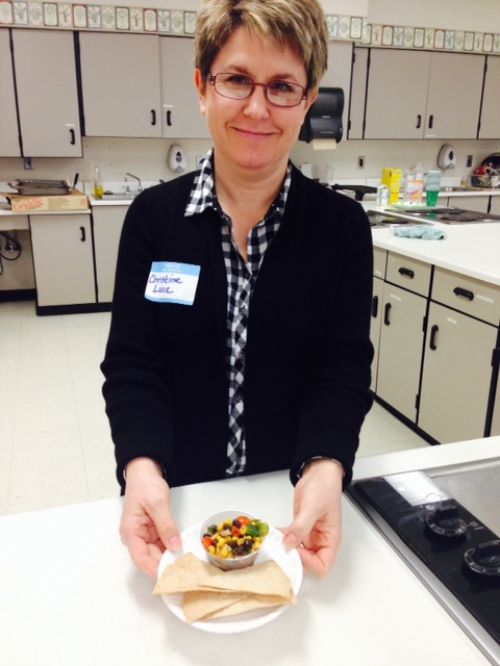 This is the first of several posts documenting individuals in the Northwest Michigan region who are helping to support the health of their community. Christine Luce serves as the Food Service Director for Kalkaska Public Schools. I first met Christine after eating lunch in the Kalkaska High School cafeteria and was impressed by the tasty black bean salad featured on the salad bar. I asked a few questions about the school meal program and learned about their recent efforts to provide free breakfast and lunch to all district students.
Sarah: Beginning this 2015/2016 school year, Kalkaska Public Schools (KPS) has offered all students free breakfast and lunch. KPS is able to offer free meals due to the community eligibility provision, an amendment to the Healthy, Hunger-Free Kids Act of 2010, that provides an alternative to household eligibility applications for free and reduced-price meals in high poverty local educational agencies (LEA's) and schools.
Can you tell us how you were able to take advantage of this opportunity for your district?
Christine: KPS is a local educational agency (LEA) that is located in an area with a high percentage of low-income families. After speaking with Karen Sherwood, our Superintendent, we decided taking advantage of the community eligibility provision would be of great benefit to the Kalkaska community.
What steps did you take to take to apply?
School districts must apply with the Michigan Department of Education Child Nutrition Division in order to participate in this program. Any school building that has an identified student percentage of 40 percent or more, or students who are eligible for free meals because they live in households that participate in the Supplemental Nutrition Assistance Program (SNAP), or food stamps, is eligible to participate during the following school year. The school buildings in the KPS District are 40 percent or above so I took our qualifying numbers for the entire district, added them together, and divided them by our total enrollment. I then submitted these numbers to the state for approval.
What observations or benefits have you noticed as a result of free meals for all students?
The community eligibility provision helps to reduce the stigma associated with free or reduced meals. All students are able to access free, nutritious meals. It also saves time. There is less time spent in the lunch lines and more time to eat. Less paperwork since families do not have to complete applications and administrators no longer have to track unpaid meal charges. More students have access to meals and more nourished students make them more prepared to learn in the classroom.
As a Food Service Director, you play a vital role in ensuring student health. Can you tell us about efforts you are involved in to support a healthy school environment?
I am involved in Team Nutrition, farm to school, partnering with Michigan State University Extension - specifically, Cooking Matters for Teens and recently with you on Dining with Diabetes. I have also reintroduced a wellness committee to our district.
What are some favorite student menu lunch and breakfast items?
For breakfast, the students really enjoy our homemade breakfast burritos as well as our bacon and egg casserole. Homemade salads and sub sandwiches, nachos, spaghetti and mashed potatoes are some of the favorite lunch items.
How can the Kalkaska community further support your work?
Involving more parents/guardians in our wellness efforts would help by setting great examples to our students. Parents are always invited to our wellness committee meetings but not many actually attend. By coming to these meetings, parents can contribute to a healthy school environment, including leadership positions and opportunities to contribute to health policy and program decisions.
Thank you Christine for your time and efforts to support the health of your students and community!
Interested in eating lunch with Kalkaska Public Schools? Guests pay $3.60 for lunch. Check in at the school front office ask for directions to the cafeteria. Menus are available online. Find more information on the community eligibility provision here. Search to see if your district is eligible for this provision through a searchable database.