Great Lakes' levels for Michigan and Huron have peaked for 2017
Seasonal decline begins - lakes will lose more than a trillion gallons of water.
Where did summer 2017 go? Meteorological fall actually began on Sept. 1, 2017, while the autumnal equinox, based on the more commonly understood astronomical season, comes on Sept. 22, 2017, marking the official end of summer. If you got out to the Great Lakes' shorelines this summer, you undoubtedly noticed higher lake levels and perhaps smaller beaches. People are still dealing with significant impacts from the record highs experienced in Lake Ontario which began in April/May 2017. Thankfully, Lake Ontario levels have fallen significantly since then and are about at the seasonal high level from 2016. The most recent weekly levels forecast from the U.S. Army Corps of Engineers shows Lake Ontario is predicted to drop another 11 inches from current levels by Oct. 1, 2017.
On Lake Michigan and Lake Huron (hydrologically one Great Lake due to the deep connection at the Straits of Mackinac), lake levels seemed to have peaked in July/August and are now following a typical seasonal decline into the winter months. The average level was almost exactly the same (a couple hundredth's of an inch is the difference) in both July and August. While we've had several intermittent years historically where the levels do go up in September and October (see the NOAA Great Lakes Water Levels Dashboard), the usual pattern is lower in September, lower again in October and so forth down into January/February where it can start a seasonal increase.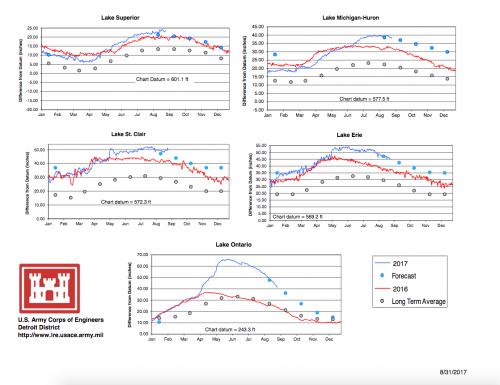 The current forecast is for Lake Michigan-Huron to decline by 2 inches by about Oct. 1, 2017.8-31-17_DailyLevelsEnglish.pdf
Trillions of gallons
While 2 inches may seem small, it is actually trillions of gallons across the vast surface area. Lake Michigan is measured as a lake surface of 22,300 square miles and Lake Huron is measured at 23,000 square miles of lake surface. This calculation is not the drainage basin (which would be much bigger), but simply the wet surface area of the lakes – over 45,300 square miles of the globe! According to the U.S. Geological Survey, 1 inch of water over just one square mile is 17.38 million gallons. This means a one inch decrease across Lake Michigan and Huron is over 780 billion gallons, with two inches equaling over 1.5 trillion gallons. Lake Superior's water surface area is a massive 31,700 square miles while the smaller lower Great Lakes each are under 10,000 square miles in area.
The current levels in Superior, Michigan-Huron and Erie are not at record heights (record highs were recorded in fall 1986 in particular) but a lot of adjustments have had to be made in docks, beach areas and things such as pathways to the water for people with disabilities. Newspaper articles, such as in the Holland, Michigan Sentinel (Aug. 13, 2017), have discussed beach erosion, sidewalk flooding during wind events, and changing beach grass areas.
Roundtable looks at issues
Another key issue has been the moving of beach sand, particularly in the southern end of Lake Michigan. The U.S. Army Corps of Engineers Detroit District, the Michigan Coastal Zone Management Program, Michigan Sea Grant Extension, Michigan USGS Water Science Center, academic and other groups have recently met to discuss issues of coastal sediment management. The Corps of Engineers received some funding from the Regional Sediment Management program to convene a group of coastal scientists and engineers to meet quarterly and discuss issues that are important to the shorelines of Michigan. The informal group name, the Michigan Coastal Roundtable, met for the first time in August 2017, to foster understanding and solving some of the chronic and emerging coastal problems in Michigan. Some of the topics at the Roundtable included:
Understanding the sediment supply and its effects on erosion
Understanding the effects that the proliferation of shore protection is having on coastal erosion
Understanding the effects that lake levels have on erosion
Understanding the effects that harbors have on the erosion
How do we create sustainable beaches in an era of dwindling sand supplies?
Field measurements and numerical modeling of all of the above.
Coastal sediment budgets
Coastal education and outreach
If you know of key shoreline issues in addition to these, please contact Mark Breederland, MSU Extension Sea Grant or one of the agencies above so we can continue to discuss living with the ever-changing dynamic coastlines of the Great Lakes.
Michigan Sea Grant, partnered with MSUExtension, helps to foster economic growth and protect Michigan's coastal, Great Lakes resources through education, research and outreach. A collaborative effort of the University of Michigan and Michigan State University, Michigan Sea Grant is part of the NOAA-National Sea Grant network of 33 university-based programs.