History of dairy cow breeds: Red and White
Learn more about the Red and White purebred dairy cattle breed in the U.S.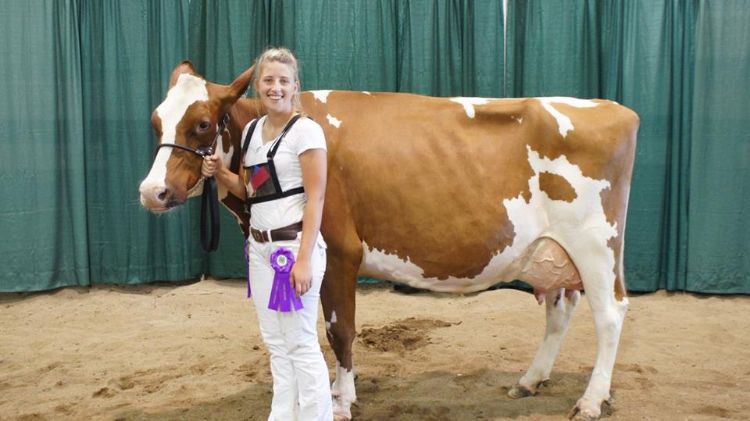 Have you ever looked at a dairy cow and wondered about the history of the breed? Michigan State University Extension will explore the history of the seven major breeds of dairy cattle in the U.S. Holstein cattle were the first in the series, followed by Jerseys, Ayrshires, Guernsey, Brown Swiss and Milking Shorthorns. The seventh and final breed to be discussed is Red and White cattle.
Red and White cattle are unique animals among those recognized through the Purebred Cattle Association because they can have genetics from several different breeds of dairy cows. Most Red and White cows are Holstein cattle, but they may also have genetics from other cattle that have reddish coats, such as Milking Shorthorns or Ayrshire.
The red color is not something new in cattle. In fact, it is a natural variation and is caused by the expression of recessive genes. The red color was not favored by many Holstein breeders, which resulted in excluding red and white cattle from registration books. In response to this, the Red and White Dairy Cattle Association was established in 1964 by a group of Shorthorn cattle breeders. Looking to make improvements in Shorthorn milk production, Holsteins were a natural choice because of their milking qualities and natural red coat color.
The Red and White Dairy Cattle Association maintains an open herd book and aims to keep Red and White Holstein bloodlines strong. There are two divisions in the herd book: the Red Registry for cattle that do have a Red and White coat color, and the Extended Registry for cattle who do not meet color requirements. Red and White Holsteins are no longer excluded from registering with Holstein associations, thus providing options for owners to choose where they want to register cattle.
Knowing that Red and White cattle generally carry strong Holstein genetics, their origin and history is that of their black and white relatives and can be read about in "History of dairy cow breeds: Holstein."
As with all matters dealing with genetics, the expression of the red coat color is not as simple as we once thought. More information about the interesting history of Red and White Holstein genetics can be found in "There's more to breeding Red and Whites than we thought" by Hoard's Dairyman. Learn more about the breed organization by visiting the Red and White Dairy Cattle Association website, which has a membership program for youth through their junior division.
Michigan State University Extension and the Michigan 4-H Youth Development program help to create a community excited about STEM (Science, Technology, Engineering, and Mathematics). 4-H STEM programming seeks to increase science literacy, introducing youth to the experiential learning process that helps them to build problem-solving, critical-thinking and decision-making skills. Youth who participate in 4-H STEM are better equipped with critical life skills necessary for future success.
To learn more about the positive impact of Michigan 4-H youth in STEM literacy programs and animal science programs, read our 2016 Impact Report: "Building Science Literacy and Future STEM Professionals."
Other articles in this series