Hop producers encouraged to compete for the 2017 Cascade Cup
The Hop Quality Group proudly presents the 6th annual Cascade Cup.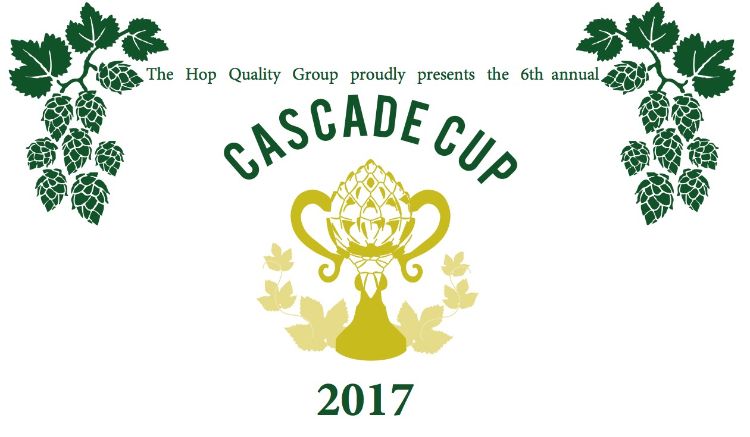 The Hop Quality Group recently announced the 6th Annual Cascade Cup. Hop producers across the U.S. who submit a brewer's cut of dried whole cone Cascade hops will be eligible for the most prestigious of all annual awards conferred by the Hop Quality Group- The Cascade Cup. The Hop Quality Group is a non-profit organization developed to advocate for and ensure a sustainable supply of high quality hops for the U.S. craft brewing industry. Brewing professionals from the Hop Quality Group will determine the winning farm based upon blind comparisons of hop appearance, aroma, and USDA hop analysis from submitted brewer's cut samples.
Only one winner will be awarded the distinguished Cascade Cup in addition to an assortment of fine beverages brewed by members of the Hop Quality Group. The winner will be announced the evening of January 25, 2018, at the Palm Springs Air Museum.
To submit a sample, hop producers will need to mail one brewer's cut of whole leaf Cascade hops along with USDA hop analysis and lot number. Only one sample is allowed per farm. Brewer's cut samples must be received by January 1, 2018, to be considered for the competition. All hops will be refrigerated until the competition commences. Producers interested in participating should send their hops sample to:
Sierra Nevada Brewing Co.
Att: Anders Reyes/Cascade Cup
1075 East 20th Street
Chico, CA 95928
Please continue to visit Michigan State University Extension's hop webpage or the MSU Hops News Facebook site for up to date information.