Invasive Parrot Feather plant found in southeast Michigan pond
Michigan Department of Natural Resources responds to the siting of this aggressive aquatic invader. Release from an aquarium or water garden is suspected source.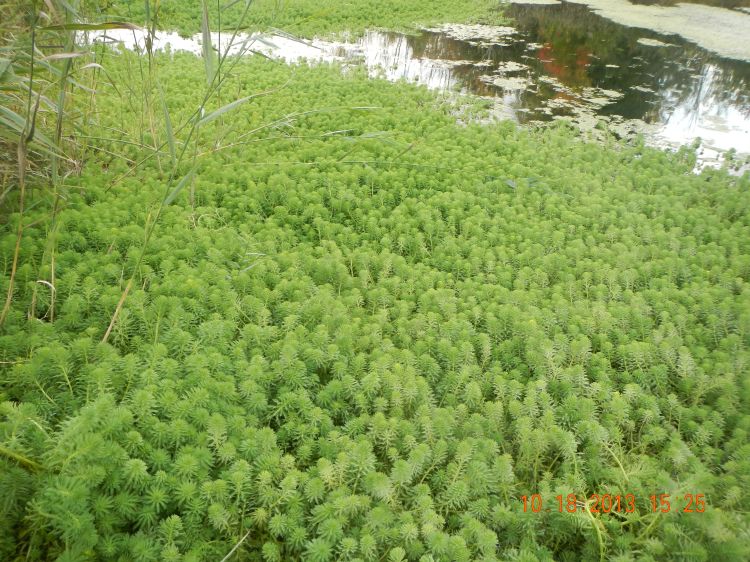 A Michigan Department of Natural Resources (MDNR) news release details the state's response to last fall's siting of the invasive aquatic plant, parrot feather (Myriophyllum aquaticum). The invasion was found in a storm water detention pond located in Wayne County's Brownstone Township in southeast Michigan.
Parrot feather is related to Eurasian Water Milfoil (Myriophyllum spicatum) -- an aggressive aquatic invasive that is all too familiar to Michigan lake enthusiasts. Often found in retail centers under the wrong name, parrot feather is a popular water gardening and aquarium plant with deeply cut, bright blue-green, feathery leaflets. It is one of the few submerged aquatic plants whose stems and leaves extend above the surface of the water. Parrot feather is highly aggressive and heavy infestations resemble a forest of tiny fir trees across the surface that shade and crowd out native aquatic plants. Trailing stems, up to 5 feet long, form dense, strangling mats below the surface.
As with last summer's siting of European Frog-bit in Alpena, the MDNR Early Detection Rapid Response Unit worked with local government to conduct verification and assessment. This process included a survey of local waters near the detention pond. To date, it appears the parrot feather is isolated to the detention pond; however, more intensive survey efforts are being planned for the surrounding area in the spring of 2014. (For a full article on the MDNR's response to both sitings please visit a recent issue of Land and Water Magazine.)
According to the MDNR, parrot feather is a "prohibited species" in Michigan, which makes its possession, transport or release illegal, due to the severe negative effects it can have on native ecosystems. Parrot feather has only been found in the Great Lakes basin in a few previous locations (in Michigan's Oakland County and Indiana's Steuben County). The source of this new infestation is unknown, but it is possible that this plant - popular in aquariums and water gardens - may have been released into the pond.
To prevent the spread of aquatic invasive species, Michigan State University Extension urges that aquarium and water garden enthusiasts DO NOT RELEASE aquatic plants or animals. The national Habitattitude campaign offers guidance on the humane and environmentally safe disposal of unwanted aquatic organisms.