Kohlrabi: Coming soon to a school near you
Following the path of kohlrabi cabbage from farm to table.
How do you find a diverse selection of local produce during the long winter months in Northern Michigan? Look no further than Farm to Freezer — by processing and flash freezing the produce at the peak of freshness, they are able to source these local products to grocery stores and institutions far longer than the fresh product would hold.
The process of procuring local foods for schools can sometimes be long and complex. Over the years, Mark Coe of Farm to Freezer and Tom Freitas, Food Service Director for Traverse City Area Public Schools (TCAPS), have nourished a partnership essential to sourcing local foods into cafeterias. Now, local romanesco, rainbow carrots and frozen fruits are often found in our school freezers and this partnership is constantly expanding. The new vegetable on the horizon? The low, stout cultivar of cabbage known as kohlrabi.
So what exactly does this kohlrabi have to go through before it is found on our students' trays this month? First, Farm to Freezer orders thousands of pounds of kohlrabi grown at Michigan State University Student Organic Farm and harvested at peak freshness. It is then shipped to the Farm to Freezer facility, where it is stored in a cooler until processing.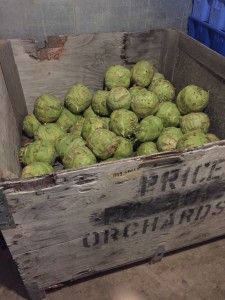 Stored kohlrabi awaiting processing at the Farm to Freezer facility
Normally during processing, vegetables are put into a machine to be peeled if needed. Unfortunately, due to its size and weight (~8lbs each!), this massive kohlrabi broke the machine. Thus, it all had to be peeled by hand.
After the kohlrabi is peeled, it is cut into pieces small enough to fit into the robot coupe, where it is then diced or sliced into fries.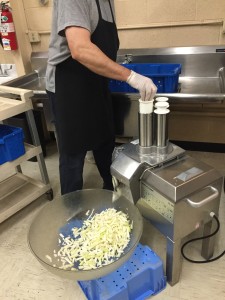 The kohlrabi is cut and processed into fries by the robot coupe, a large food processor, flash frozen and then transferred into 2 or 5-pound bags.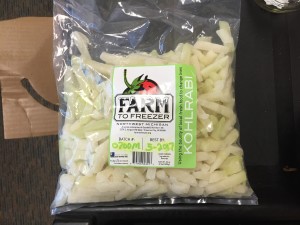 A look at the final product
Leaving the facility, these bags are distributed to local grocery stores and Cherry Capital Foods (who then distributes to institutions, like our schools). Thus completing the farm to table and farm to school cycle.
As you can see, with the long process it takes for the kohlrabi to come from the farm to the students, it really does take a village to raise a healthy child. Here's to a new year filled with community partnerships working to create a sustainable farm to school environment in northwest Michigan. Stay tuned to hear how the kohlrabi will fare in the cafeteria taste tests later this month and what 3rd and 5th graders thought when they tried it in class last month (spoiler alert: they loved it!).
Mikaela Taylor is one two FoodCorps Service Members serving in Northwest Michigan. Mikaela is completing her service with Michigan State University Extension in Grand Traverse and Benzie counties.