Kohlrabi Round Two: Classroom Cafeteria Connections
Is it an alien or a vegetable? It's kohlrabi!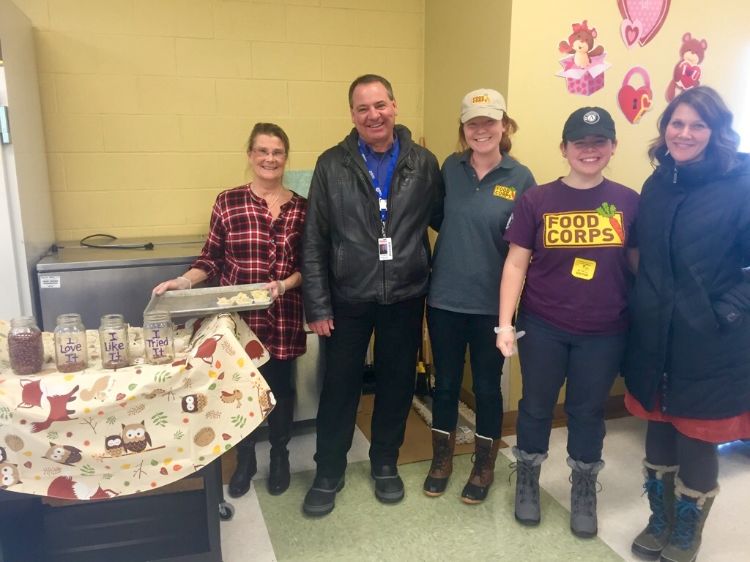 Did you miss the first post on the process of procuring local kohlrabi for the schools? Catch up and learn more through this previous article provided by Michigan State University Extension.
In mid-December, kohlrabi's journey from farm to school continued as Mark Coe of Goodwill's Farm to Freezer program and FoodCorps members taught a group of third graders at Traverse Heights Elementary all about the low, stout cultivar of cabbage. Students were given the opportunity to use their senses to explore the strange new vegetable and record notes on their fun fact sheet titled "Is it an alien or a vegetable? It's kohlrabi!" Third graders discovered that the vegetable comes in a variety of colors and sizes, ranging from purple to green and from less than one to greater than six pounds. Lastly, they learned that kohlrabi is an excellent source of vitamin C, potassium and fiber. We had the exciting opportunity to prepare it in the classroom, and they eagerly tried it two ways: blanched and sautéed!
So, how did students vote on the two versions? In Mrs. Littlefield-Dungjen's third grade class, over 91 percent of students loved or liked it blanched, and over 91 percent loved or liked it sautéed!
In January, all the students at Traverse Heights Elementary had the opportunity to try roasted kohlrabi fries in a cafeteria taste test. The school nutrition educator, Traverse City Area Public Schools Food Service Director and the Registered Dietitian fully supported and shared our goal of exposing children to new vegetables through taste tests.
Though the pepper on the kohlrabi fries deterred some students, it still performed well, with over 65 percent of students voting that they loved or liked the new recipe! If you have yet to try this vegetable, consider throwing it raw on a salad, roasting it with Parmesan cheese, or sautéing it for dinner tonight!
Interested in more inspiration? Visit thekichn.com for five ways to prepare kohlrabi at home or in your school or check out Michigan State University Extension's Michigan Fresh kohlrabi fact sheet.
FoodCorps in Benzie and Grand Traverse counties is brought to you in partnership with Michigan State University Extension and the Groundwork Center for Resilient Communities in Traverse City.
Mikaela Taylor is one two FoodCorps Service Members serving in Northwest Michigan. Mikaela is completing her service with Michigan State University Extension in Grand Traverse and Benzie counties.