Local government embraces natural shoreline project on lakefront park: Part 2
Village of Paw Paw partners with Michigan Natural Shoreline Partnership, provides professional development for Village employees and gains a natural shoreline demonstration site on Maple Lake.
Part 1 of this article, published by Michigan State University Extension, detailed how the Village of Paw Paw in Van Buren County hosted Certified Natural Shoreline Professional (CNSP) 2013 and ended up with a 200-foot long natural shoreline demonstration site at a village-owned lakefront park. But just how did this partnership come about?
In his commitment to environmental stewardship and more lake-friendly management of its shoreline properties, Paw Paw Village Manager Larry Nielsen, contacted the Michigan Natural Shoreline Partnership (MNSP) in early 2012 to volunteer the village as a host for CNSP 2013. The MNSP was happy to partner with the village, and together they moved forward to develop a natural shoreline design, secure an Inland Lakes and Streams (Part 301) permit. Nielsen also registered three key Department of Public Services (DPS) staff for the four-day CNSP training. They included John Small, DPS Director, Juan Vasquez and Robert Harvey.
After completing the three-day classroom component at the Paw Paw District Library in February, 2013 (and in the midst of studying for their upcoming certification exam) the DPS staff worked tirelessly to assist MNSP with site prep and staging of materials for the training's early June field component. The demonstration was successfully constructed and the village is proud to announce that Small, Vasquez and Harvey passed their exams to become Certified Natural Shoreline Professionals. John Small commented that with the knowledge gained through CNSP certification, he hopes to provide leadership to the naturalization of more village-owned shoreline.
A few weeks after the demo site was installed, Small and Vasquez were invited to give a presentation about the project to the Paw Paw Village Council. According to Nielsen the response was overwhelmingly positive and interest in hosting more CNSP projects is high.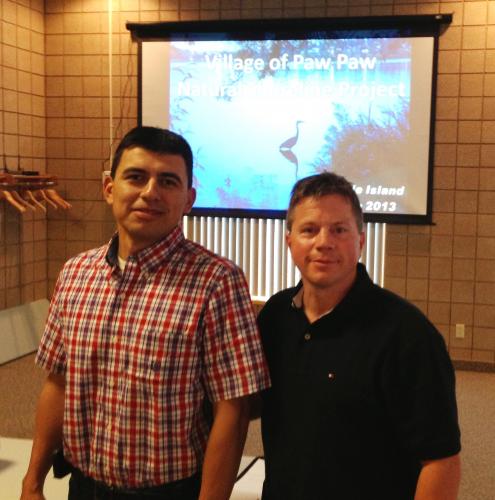 Photo: Village of Paw Paw employees and Certified Natural Shoreline Professionals Juan Vasquez (left) and John Small (right) present the Maple Isle project during a meeting of the Paw Paw Village Council.
The natural shoreline demonstration at Paw Paw's Maple Isle Park on Maple Lake (on M-40 just north of downtown Paw Paw) is available for tours by school groups, lake associations, conservation districts, the Michigan Natural Shoreline Partnership's Shoreline Educator Network and others. This site makes for a total of seven MNSP demo sites that have been constructed around the state since 2010. It will be added to the MNSP's map of demonstration sites.
Local governments interested in partnering with the Michigan Natural Shoreline Partnership to host a CNSP natural shoreline demonstration site on lakefront park property, are encouraged to contact Jane Herbert, Michigan State University Extension jherbert@anr.msu.edu.
Other articles in this series: