Local government embraces natural shoreline project on lakefront park: Part 1
Village of Paw Paw hosts Certified Natural Shoreline Professional 2013.
A previous Michigan State University Extension article detailed the three-day classroom component of the Michigan Natural Shoreline Partnership's Certified Natural Shoreline Professional (CNSP) 2013 certification trainings offered in the Village of Paw Paw in Van Buren County and at Kensington Metropark near Brighton. On June 5 and 6 participants from both locations returned to Paw Paw's Maple Isle Park on Maple Lake to participate in their required field component and take the 100-question CNSP certification exam.
Certified Natural Shoreline Professional is the flagship program of the Michigan Natural Shoreline Partnership (MNSP) and has been conducted eight times around the state since 2010, and has attracted 206 participants. This unique skill-building, certification training equips professional marine and landscape contractors to expand their business services to include more lake-friendly shoreline erosion control and landscaping techniques on inland lakes with designs that deter geese, stabilize soils, reduce runoff and provide fish and wildlife habitat.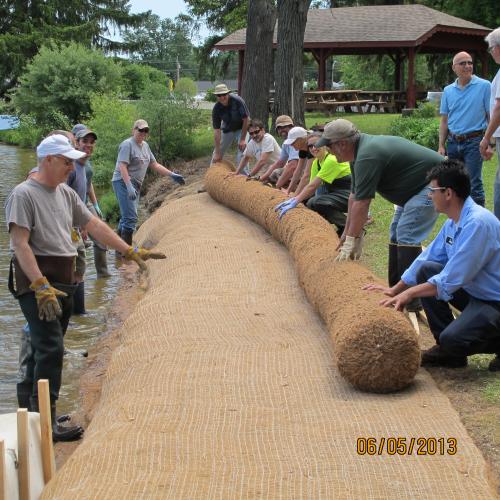 Photo: CNSP 2013 participants construct a natural shoreline demonstration site on Paw Paw's Maple Isle Park in Maple Lake, Van Buren County.
Eighty-four percent (32) of total 2013 participants returned in June for the required field practicum and certification exam in Paw Paw. All thirty-two successfully completed the 100-question certification exam (administered by Dr. Robert Schutzki, MSU Dept. of Horticulture) to become Certified Natural Shoreline Professionals. They will be added to the MNSP's web-based, statewide listing of certified contractors.
The field component CNSP provides participants with hands-on experience constructing a natural shoreline projects and results in a natural shoreline demonstration site for the host municipality. The 2013 project was hosted by the Village of Paw Paw in Van Buren County. The Village is interested in stabilizing Maple Isle's receding shorelines and in planting dense buffer strips of native shoreline plants to deter nuisance geese that like to spend time on the island. All plants and bioengineering materials for the 1,200 square foot buffer strip were provided by the Village. Project design for the bioengineered shoreline erosion control and the native plantings was provided by the MNSP. Labor was provided by CNSP participants and allowed for hands-on natural shoreline construction experience. Instruction was provided by Jane Herbert (MSU Extension), Brian Majka (CardnoJFNew), Bill Schneider (Wildtype Native Plants), Luis Saldivia (MDEQ) and Esther Durnwald (Michigan Wildflower Farm); all instructors are members of the MNSP's Contractor Training Committee.
The natural shoreline demonstration at Paw Paw's Maple Isle Park (located on M-40 just north of downtown Paw Paw) is available for tours by school groups, lake associations, conservation districts, the Michigan Natural Shoreline Partnership's Shoreline Educator Network and others. This site makes for a total of seven MNSP demo sites that have been constructed around the state since 2010. It will be added to the MNSP's map of demonstration sites. Watch for Part 2 of this article to learn more about the role of Paw Paw's Department of Public Services staff and the Village Council's response to the project.
Other articles in this series: