Malting barley variety trial data now available
Despite challenging weather at harvest, results from the Michigan State University malting barley trial show potential for quality malting barley produced in northern Michigan.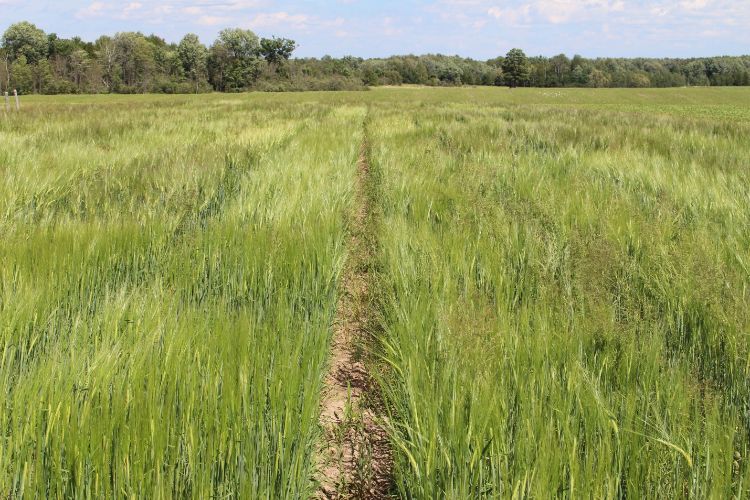 In 2014, staff from the Michigan State University Upper Peninsula Research and Extension Center (UPREC) managed a four-site variety trial. The Michigan State University Project GREEEN grant program, Michigan Department of Agriculture and Rural Development and the American Malting Barley Association supported the trial. The goal of the study was to determine which varieties were best suited to provide the yields and quality sought by craft maltsters and brewers. The four trial locations were:
Upper Peninsula Research and Extension Center in Chatham, Michigan (Alger County)
Robere Farm in Cooks, Michigan (Schoolcraft County)
Pilarski Farm in Posen, Michigan (Presque Isle County)
Empire Malting Co. in Empire, Michigan (Leelanau County)
Each plot utilized a randomized complete block design, which allows for good statistical analysis of results. Twenty-three varieties were tested in four replications.
Trial data is summarized below; however, complete data for all varieties across all locations can be found at the UPREC Malting Barley website.
Yield
In a typical year, yields around 40-50 bushels/acre are realized throughout the Upper Peninsula and northern Michigan, however the cool, wet summer led to higher than average yields at most sites. Christian Kapp, crops researcher at the UPREC since 2001 and manager of the trial noted some of the highest yields he has ever witnessed in over 10 years of conducting barley variety trials. "We had tremendous yields in 2014, especially at the Cooks site," Kapp reported. Those sites that received plentiful rainfall, however, had higher than optimal moisture at harvest. The Empire site was the only location that experienced low yields, where a brief drought coupled with very light soils, heavily impacted vegetative growth and grain fill.
| | | | |
| --- | --- | --- | --- |
| Site | Average Moisture (percent) | Average Test wt. (lbs. /bu.) | Average Yield (bu./acre) |
| UPREC | 16.1 | 49.4 | 86.8 |
| Cooks | 15.2 | 49.3 | 107.3 |
| Posen | 15.2 | 51.5 | 81.1 |
| Empire | 14.3 | 48.3 | 23.5 |
Grain Quality
A composite sample of the four replications of each variety was sent to the grain analysis lab at North Dakota State University for assessment. Selected parameters that are of high interest to the malting industry are:
Protein – seeking less than 12.5 percent, which will yield more malt extract
DON – indicator of Fusarium head blight (FHB) and deoxynivalenol contamination, needs to be less than 1 ppm
Germination – seeking at least 95 percent to ensure barley can be germinated and processed into malt
RVA – indicator of pre-harvest sprout, which will equate to poorly germinating grain that will not store well for long periods, optimum levels are greater than 120, values down to 50 exhibit intermediate pre-germination, but can be malted if stored and handled properly
Other parameters tested involve kernel size, including plumpness.
Site

Average Protein (percent)

Average DON (ppm)

Average Germination Energy (GE percent)

# Varieties with GE

≥ 95 percent


# Varieties with RVA ≥ 120

# Varieties with RVA ≥ 50 & < 120

# Varieties with RVA < 50

UPREC

12.5

0.0

78

2

1

8

14

Cooks

13.6

0.0

84

5

0

4

19

Posen

11.4

0.0

93

15

4

9

10

Empire

15.3

0.0

97.5

22

4

6

13
Weather at harvest severely impacted grain quality in terms of germination and incidence of pre-harvest sprout. Since most of the plots received substantial rainfall at harvest, grain began to sprout or lose its germinative energy. Challenging years like 2014 can lead to unplanned opportunities. During this test, we were able to determine what varieties may possibly show some resistance to pre-harvest sprout even in these worst-case scenarios. It was very promising to see DON levels were at 0 ppm at all sites, indicating the success of appropriate applications of fungicide to control FHB – especially in a weather year that would have been highly conducive to infestation. Finally, protein levels were on or very close to target at all sites except for Empire. This can be attributed to the drought conditions experienced through the growing season.
Samples are also sent to the USDA-ARS Cereals lab in Madison, Wisconsin, where they are micro-malted and analyzed for malting characteristics.
Future plans
Staff at UPREC in cooperation with Michigan State University Extension and Michigan State University AgBioResearch plan to host two trials in 2015 to continue to build on the data collected on these varieties. Already, the information gained from the 2014 trial is informing producers and seed growers on what varieties have potential in the state. Researchers have also been invited to participate in an Eastern U.S. Unified Research Nursery to test varieties adapted to climatic conditions throughout the Great Lakes and New England states.
If you are interested in malting barley production or malt processing, feel free to reach out to me, Ashley McFarland at 906-439-5176 or ashleymc@anr.msu.edu. I am the Coordinator of the Michigan State University Upper Peninsula Research and Extension Center in Chatham, Michigan.