Migrating monarchs across our Great Lakes coastlines
Of the great migrations that take place across the world, one of the more spectacular may be that of the monarch butterfly as they travel along our Great Lakes coastlines.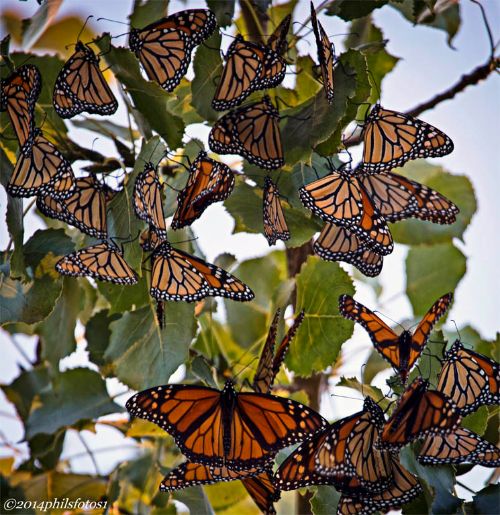 Fall season in Michigan brings brilliant colors to the trees and migrating geese loudly announcing their fall migration. It also brings a quieter, if not more colorful, opportunity to witness one of the world's great migrations—that of the monarch butterfly. In Michigan, these well-known butterflies begin their roughly 3000 mile journey south along the Great Lakes coastline to their wintering grounds in southern Mexico and Central America. Amazing to witness—these butterflies also offer educational, recreational and coastal community tourism benefits while speaking to the importance of protecting coastal habitats critical to these wildlife migrations.
From songbirds and waterfowl to birds of prey, bird migrations are widely recognized by people, but often times the impressive journey of these colorful insects goes unnoticed. As with birds, Great Lakes coastlines are critically important migratory corridors for many species including bats and butterflies. It is not uncommon that Great Lakes boaters or fisherman may site monarchs far offshore using the winds on the Lakes—much in the way a sailboat might—to aid in their journey. Yet as all travelers must, these migrations also require shoreline habitats that serve as resting (or roosting) and feeding (or refueling) stations.
Birders gather at coastal migratory landmarks such as Whitefish Point Bird Observatory, Tawas Point State Park, or Lake Erie Metropark to observe seasonal bird migrations—it can be an equally spectacular sight to witness large groups of monarchs congregating along shoreline habitats during their migrations. One September evening, members of the AuSab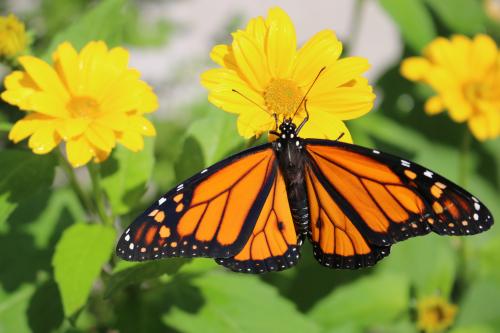 le Valley Audubon noted more than 600 migrating monarchs taking shelter along Lake Huron shoreline habitats at Harrisville State Park in their continuing journey south. Just a few years earlier, local Audubon members witnessed several thousand monarchs arriving for rest at Tawas Point State Park during the same mid-September period. An international Lake Huron Biodiversity Conservation Planning Report, co-authored by Michigan Sea Grant, recognizes the migratory corridors as critical to conservation of diversity of plants, fish, birds, mammals—and even insects that depend on these shoreline habitats during their journeys for life.
Memorable viewing opportunities for residents and visitors alike, this great monarch migration may offer sustainable coastal tourism or ecotourism development opportunities. Northern Lake Huron and Saginaw Bay communities already recognize the significant tourism and economic values of wildlife watching opportunities that these annual wildlife migrations offer. Michigan State University Extension and Michigan Sea Grant often support efforts to enhance wildlife watching as a coastal tourism development opportunity. Natural resource agencies, wildlife watching enthusiasts and U.S. 23 Heritage Route tout local birding opportunities as an important tourism contributor in northeast Michigan, accented by the Tawas Point Birding Festival in mid-May each year. The Saginaw Bay Birding Trail, created by efforts led by the Saginaw Basin Land Conservancy, promotes wildlife watching throughout the region as well. Similarly, the Byways to Flyways project promotes wildlife watching opportunity along the Detroit River and western Lake Erie corridor.
A citizen science project led by Monarch Watch offers a more hands-on educational opportunity to learn about monarch butterfly habitats, life cycles, and migratory patterns—while contributing to science. Through this program, volunteers can mark butterflies (using a very small identifying stickers or tags); record data about each butterfly, and release them. When marked butterflies are recaptured, scientists can learn a great deal about survival, population health and migration patterns. Even the youngest citizens—such as school students—can contribute to environmental stewardship through monitoring of monarchs and their local habitats through this program.
Partner to the Northeast Michigan Great Lakes Stewardship Initiative, the budding young scientists of Alcona Elementary School explored their schoolyard for milk-weed habitats for monarch caterpillars, offering a fun and educational experience for students. A firsthand exploration in life cycles, they tracked their caterpillars' metamorphosis or transition into butterflies. Students tagged and recorded data on each of their butterflies before releasing them into their schoolyard butterfly garden. The data they collected will help Monarch Watch researchers monitor butterfly populations and track migrations of these local butterflies as they head south for the winter. A great project for students—and citizen scientists of all ages—to learn about wildlife, habitat stewardship, and how local Great Lakes habitats, through butterflies, are connected across the world.