Montague and Whitehall school meals include locally-grown potatoes
This innovative farm-to-school program involves farmers, teachers and students.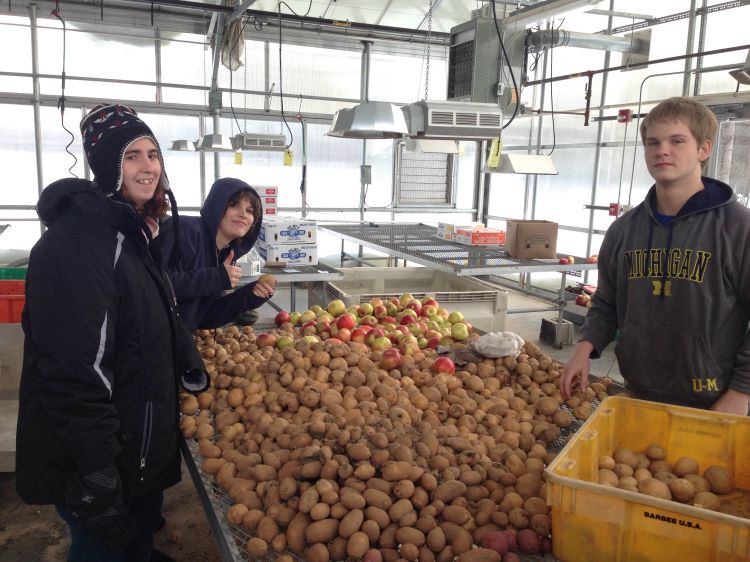 While many schools serve French fries and tater-tots from a bag, Montague and Whitehall School districts in Muskegon County, Michigan decided they wanted to do something different. Food service director, Dan Gorman, who is widely recognized as a state leader in farm-to-school work, decided it was time to work on sourcing some of the school's potatoes from a local Michigan farm.
"Michigan potatoes are available year round and are a great nutritional balance to a school meal," said Gorman. "Once we found a supply of Michigan potatoes, our next challenge was to find a way to process the potatoes," he added.
To process the raw potatoes from the farm, Gorman tapped the expertise of Elissa Penczar, Catering and Culinary Management Instructor with the Muskegon Area Career Tech Center, who has worked with Gorman on other farm-to-school initiatives in the past. Chef Penczar instructs several classes of high school students drawn from all 16 Muskegon County high schools. Some of her students are responsible for washing and cutting the potatoes for Gorman's kitchen staff. Catering and Culinary Management students are also developing spice mixtures and cooking protocols for the potatoes, which are served with part of the skin on to increase the nutrients.
Chef Penczar says she is pleased with the progress her students have made. "Cutting potatoes uniformly while leaving some of the skin on requires skillful knife work. Creating spice blends and calculating the proper ratio of spices to potatoes takes creative problem solving, attention to detail and dedication. These are all skills these students will need after they graduate," said Penczar.
Transportation and storage were early challenges in the effort. The district's USDA Farm-to-School Planning grant was tapped to solve these issues. The grant allowed for the purchase of plastic carts and storage containers to transport the potatoes from the farm to the school. In February 2017, one hundred pounds of potatoes from Kitchen Farms in Elmire, Michigan are being processed and served in the both districts through the lunch program each week.
Students are engaged in this farm-to-school effort through a variety of ways. Lynn DeVlieg is a farm-to-school coordinator with Montague and Whitehall School Districts. She conducts classroom presentations and develops a "Harvest of the Month" newsletter for teachers with links to videos, books and lesson plans they can use in the classroom. DeVlieg also coordinates taste tests in classrooms so students have input on the dishes they like best for their school meals. This month they are testing out two different types of roasted potato recipes with different spice blends.
"It isn't enough just to source from local farms. To truly make an impact, we must also involve our students and staff in school garden so we can all increase our knowledge about growing food, local agriculture and culinary skills. These are lessons that will hopefully stick with students for the rest of their lives," said DeVlieg.
For more information about farm-to-school programs in your community, contact Michigan State University Extension's Community Food Systems Work Team or visit the Michigan Farm-to-School web page.