New study finds Michigan boaters unsure on invasive species prevention
Boaters want to take steps to prevent the spread of invasive species, but survey results suggest that many do not know which steps are now required by law.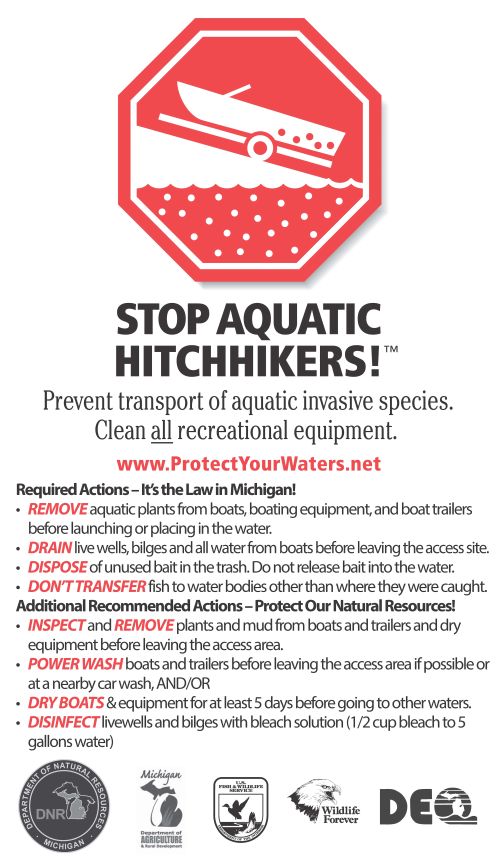 With over 11,000 lakes and 35,000 miles of navigable streams and rivers, Michigan offers plenty of opportunity for power boating and paddling. Over 800,000 boats and other watercraft are registered in the state, so there is also plenty of potential for accidental movement of zebra mussels and other troublesome invaders.
Michigan law now requires boaters to "drain bilges and live wells upon leaving any body of water." The law also states that boaters shall not place a boat, trailer or other equipment into state waters if it "has an aquatic plant attached." Essentially, boaters are required to remove plant material from boats and other equipment before launching and drain water from boats before leaving the launch site.
Unfortunately, removing plants and draining water are not enough to ensure that boaters do not spread invasives species to new waters. Boaters are also encouraged to remove mussels and mud and either power wash equipment or dry boats and equipment for at least five days. Live wells and bilges can also be disinfected as an additional precaution.
Video link: https://www.youtube.com/watch?v=IWobcoWchsI&feature=youtu.be
Collaborators with Michigan State University Extension, Michigan State University, and Chonnam National University conducted a survey to find out if Michigan boaters understand the law and follow the guidelines for invasive species prevention. Results from 441 returned surveys suggest that boaters are very concerned about the effects of invasive species. In fact 93 percent believe that aquatic invasives are a moderate to serious problem and 89 percent perceive a moderate to serious threat to the future of Michigans's economy.
Not surprisingly, boaters were generally willing to follow the law when it comes to preventing the spread of AIS. Over 70 percent of boaters who knew that removal of plants and draining of water are required took those steps every time they moved boats from one body of water to another. Unfortunately, many Michigan boaters were not aware that these steps are required.
Nearly 18 percent of boaters believed that removing plants is not required, and 21 percent believed that draining is not required. Boaters who mistakenly believed that these actions are merely recommended were not as likely to comply. In fact, only 54 percent always removed plants and 45 percent always drained water when moving boats.
There is still a considerable risk of boaters spreading invasive species into new areas. The good news is that better communication regarding Michigan's invasive species prevention law should lead to immediate increases in removing plants and draining water. Visit the Michigan Sea Grant website for the full project report to learn more.
Michigan Sea Grant helps to foster economic growth and protect Michigan's coastal, Great Lakes resources through education, research and outreach. A collaborative effort of the University of Michigan and Michigan State University, Michigan Sea Grant is part of the NOAA-National Sea Grant network of 33 university-based programs.