One Michigan 4-Hers trek to making a global difference
Michigan 4-Her Francine Barchett talks about her amazing new opportunity to do research abroad and how 4-H helped her get there.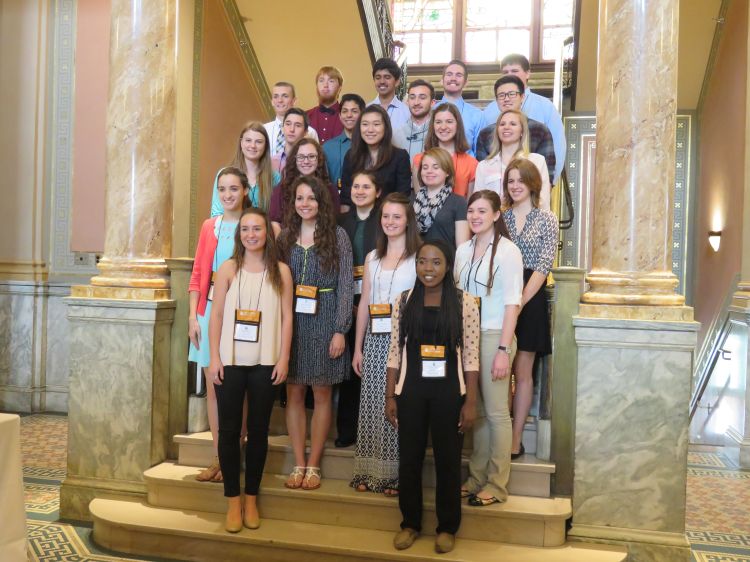 The Borlaug-Ruan International Internship is a unique program of the World Food Prize Foundation that allows high school student interns to participate in projects with distinguished researchers at leading agricultural research centers around the globe. While getting a firsthand view of real and pressing food security issues and nutrition problems in poverty-stricken areas, the students become an integral part of a project, spending time in the lab as well as days or weeks at a time in the field conducting research and interviews and gathering data.
A prerequisite for the Borlaug-Ruan International Internship is attending the World Food Prize Global Youth Institute, which occurs each October and exposes students to opportunities associated with careers in agricultural, natural resource, life sciences and affiliated fields. Youth Institute participants present research papers and interact with World Food Prize Laureates and renowned experts to discuss issues relating to food security throughout the world.
In 2015, Francine Barchett, a then junior from Benton Harbor, Michigan, participated in the first ever standalone World Food Prize Michigan Youth Institute. Barchett was selected as one of Michigan's top five participants and went on to represent the state at the aforementioned Global Youth Institute. We are proud to announce that this year, Barchett applied and was awarded the Borlaug-Ruan International Internship at the International Crops Research Institute for the Semi-Arid Tropics and is currently in Patancheru, India!
We had the opportunity to catch up with Barchett before she left for her internship. Here's what she had to say.
Makena (M): What made you want to participate in World Food Prize Michigan Youth Institute in 2015?
Francine (F): While waiting in the lunch line at Michigan State University's 4-H Exploration Days, a poster for World Food Prize Michigan Youth Institute caught my eye. I knew almost nothing about agriculture, yet the event intrigued me. Since I had always wanted to make a difference and explore new opportunities, I participated in Michigan Youth Institute and hoped it would open doors. It certainly did.
M: What was it like for you to represent Michigan at the Borlaug Dialogues and the Global Youth Institute?
F: Unforgettable! I was not only touched by the many youth actively taking a role against hunger, but also by the international experts who were friendly and approachable. A highlight of mine was presenting my research to the 2014 recipient of the World Food Prize, Dr. Sanjaya Rajaram, who had developed varieties of wheat that improved the food security of millions. It was also inspiring to hear the former president of Malawi tell us about her personal experiences helping women overcome poverty and reach their educational goals.
M: What impact did these experiences have on your life?
F: Where should I begin? Out of every event I have ever done, I give World Food Prize Michigan Youth Institute and Global Youth Institute the highest recommendation! Because of them, I began exploring new career options and received the tools to change myself and improve my community. Besides restructuring my diet to become a vegetarian, I joined the Revolution Hunger movement, taught my 4-H program food security basics and united with friends to give microfinance loans. Hoping to do more, I joined fellow Michigan Global Youth Instituters to teach a food security class and host an Oxfam Hunger Banquet at a state 4-H conference. This is hopefully just the beginning! Because of the World Food Prize, I learned about Cornell University, which is where I will be studying international agriculture for my bachelor's degree.
M: How did being a 4-Her help prepare you for these experiences?
F: 4-H prepared me to be a confident public speaker and befriend those who do not share my beliefs. At World Food Prize Michigan Youth Institute and Global Youth Institute, I felt prepared for the round table discussions and took the initiative to make friends from all over the world. Also, my experiences with 4-H helped me develop perseverance and self-motivation. My countless 4-H projects that required hours of patience paid off in the end. Similarly, researching and compiling my paper for Michigan Youth Institute and Global Youth Institute was a significant challenge, but I would not trade my experience for anything.
M: You are the first Michigan Youth Institute/Global Youth Institute delegate to be awarded a Borlaug-Ruan internship. Can you describe the internship?
F: The Borlaug-Ruan internship is an overseas food security research position available for past Global Youth Institute delegates who are between their junior year of high school and freshman year of college. Intern study topics vary, dealing with anything from insects, to livestock, to community empowerment and genetic modification. I am traveling to Patancheru, India, to study at the International Crops Research Institute for the Semi-Arid Tropics (ICRISAT). I am interning for International Crops Research Institute for the Semi-Arid Tropics Markets, Institutions, Nutrition and Diversity program, with a research theme centered on gender empowerment, nutrition and health. In order to pass the Markets, Institutions, Nutrition and Diversity intern program, I have to submit a written report and present it in a seminar at the end of my eight-week stay.
M: What advice do you have for youth in Michigan who want to make a difference in the world?
F: Do it! Make a difference today, because today is a special moment you will never get back. Explore the things that make you click, be it hunger, health, music, writing or anything else, and become so skilled and passionate in those areas that you can contribute positively to your community and world. A couple other pieces of advice: Work harder than everyone around you, be humble always and never give up on your dreams, despite the odds.
Barchett ended the interview saying, "Youth truly hold the keys to the future. It is important for us to become informed, active and responsible, and one of the best ways of demonstrating this is through leadership and citizenship roles. Everyone has a voice, and the sooner people – especially youth – realize and embrace theirs, the greater good we can accomplish both here in the U.S. and worldwide."
MSU Extension and the Michigan 4-H Youth Development program help to prepare youth as positive and engaged leaders and global citizens by providing educational experiences and resources for youth interested in developing knowledge and skills in these areas. To learn about the positive impact of Michigan 4-H youth leadership, civic engagement, citizenship and global/cultural programs, read our 2015 Impact Report: "Developing Civically Engaged Leaders."
Other articles in this series: