Parklets for placemaking
A new guide from the City of Grand Rapids makes it easier for businesses and citizens alike to undertake placemaking projects that attract pedestrians, increase retail activity and provided needed green space and bike parking.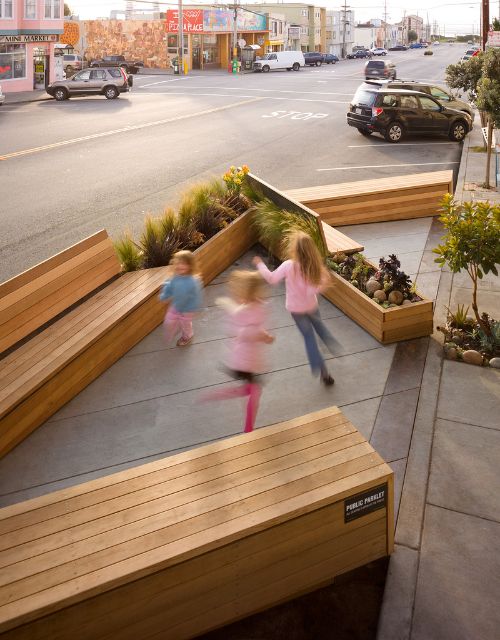 Earlier this year, the City of Grand Rapids, Michigan and Downtown Grand Rapids, Inc. released the Grand Rapids Parklet Manual. The manual is a guidebook for business owners and property owners interested in creating parklets on city streets. According to The Street Plans Collaborative (in Tactical Urbanism 2):
A typical parklet consist of a platform that sits flush with the sidewalk. Each one is built in the place of two or three parking spaces. In most cases, they include seating and various amounts of greenery and occasionally include bicycle parking and/or tables to serve as outdoor dining areas for nearby restaurants or cafes.
The Parklet Manual is intended to familiarize those wishing to create a parklet with the applicable city regulations in order to reduce permitting time and improve parklet design. In providing guidance to prospective parklet providers, the Manual highlights site selection considerations, platform design guidelines, and application fees and processes.
Typically, parklets are paid for and constructed by business or non-governmental organizations, but they are for public use by all, since they are located in the public right-of-way. Parklets are growing in popularity across the nation as businesses, organizations and city residents are becoming more actively involved in improving quality of life in cities big and small through citizen-led, low-cost means of Placemaking (see Tactical placemaking builds sense of place and economic activity).
Retail businesses and downtown development authorities are generally in favor of parklets in downtown locations because of the concentration of people that they attract. In turn, lingering people typically means increased economic activity for area businesses. Certainly, the loss of parking spaces from the construction of a given parklet is something to consider, but provision of bike parking and implementation of other parking controls, such as meters and time limits, will help to keep the automobile parking situation in check.
Parklets can also soften an urban landscape devoid of green space and other pedestrian amenities. In Marquette, Michigan, parklets have been proposed along Third Street, a street with relatively narrow sidewalks that have limited space for street trees. Here, parklets are envisioned as a means to provide green space as well as seating and bike parking for area businesses. In snowier latitudes (like Marquette), parklets can be easily removed so that snowplows can make a continuous pass along the curb of the street (although, parklets could also be designed with snow and cold in mind and used as year-round seating areas).
The Grand Rapids Parklet Manual lists the following goals associated with the City's parklet program:
Reimagine the potential of city streets
Support local business
Encourage pedestrian activity
Foster neighborhood interaction
Encourage non-motorized transportation
For more information on Placemaking in Michigan, visit the MiPlace Partnership or contact a Michigan State University Extension land use educator.