Partnership Between SPDC and MDNR Receives National Recognition
The School of Planning, Design and Construction's on-going partnership with the Michigan Department of Natural Resources received the National Association of State Park Directors' 2023 President's Award.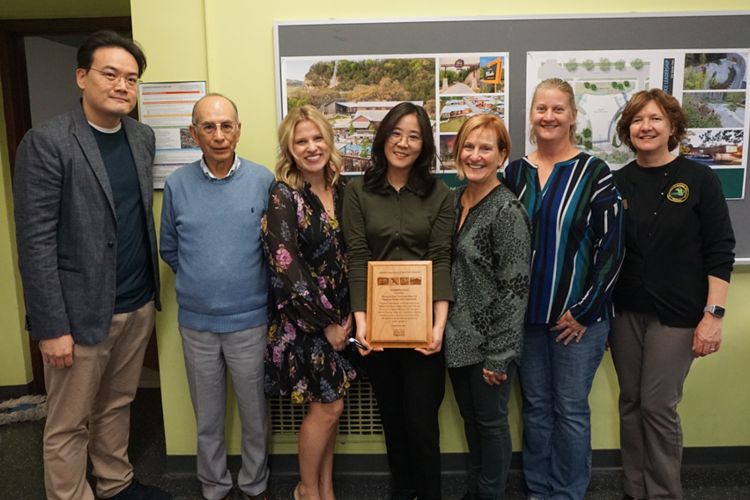 Michigan State University's School of Planning, Design and Construction (SPDC) is entering the 12th year of their partnership with the Michigan Department of Natural Resources (MDNR). The combined efforts of SPDC and MDNR are now being recognized by the National Association of State Park Directors by receiving the 2023 President's Award. This award is presented annually to individuals, groups and organizations who have made an extraordinary contribution to America's State Parks at the local, state or national level.
The mission of SPDC and MDNR's partnership is to collaborate in education and service in creating sustainable park design and planning. To achieve this SPDC works closely with MDNR to offer real-world project opportunities to SPDC courses, with particular emphasize on design studios. For over a decade faculty from SPDC's Landscape Architecture (LA), Interior Design (ID), and Construction Management (CM) programs have utilized project sites managed by MDNR to give students practical industry experience.
Past examples of such collaborations include the 2021-2022 MSU-DNR Partnership of Sustainable Park Design and Planning Project. SPDC faculty and students, in cooperation with MDNR staff, analyzed current conditions and designed features of the built and natural environments, sustainable and green infrastructure features, site design and planning, and provide recommendations or guidelines for future renovation and/or development for various project sites across Michigan.
Dr. Wonmin Sohn, assistant professor in the Landscape Architecture program said, "The DNR-sponsored community engagement project created a student-centered high impact learning environment." She acknowledged this partnership opportunity as unique, saying, "It is rare in class that students directly learn people's design needs through intimate interaction with local stakeholders. This project offered an opportunity to extend students' learning experience beyond the classroom, empowering their creativity and knowledge discovery."
Interior Design faculty member, Laura Winter, called the partnership, "Such a wonderful experiential learning process for the students." Winter praised the efforts of contributing individuals by saying, "The team members that I have met along the way have all been such a pleasure to work with. They have interacted kindly with the students, giving guidance and constructive feedback, while providing such a unique opportunity."
During the past academic year, course work made possible through this partnership include LA 447: Juried Design Studio and LA 817: Environmental Design Studio, both of which provided several design proposals for the Belle Isle State Park, as well as LA 243: Place Making Design Studio, which culminated in multiple design proposals for the Hammond Bay State Harbor. Nearly 40 students were able to contribute to the work done by SPDC in partnership with MDNR through these classes alone.
"I hope our partnership will continue to offer great opportunities for both [SPDC and MDNR] to explore future public space development across Michigan, considering sustainable, resilient, and inclusive design solutions," said professor and program director of Landscape Architecture, Dr. Jun-Hyun Kim, who has led this partnership since 2019.