Free Saginaw Bay Phragmites workshop series set
Learn practical tools for tackling one of the region's most aggressive invasive plants.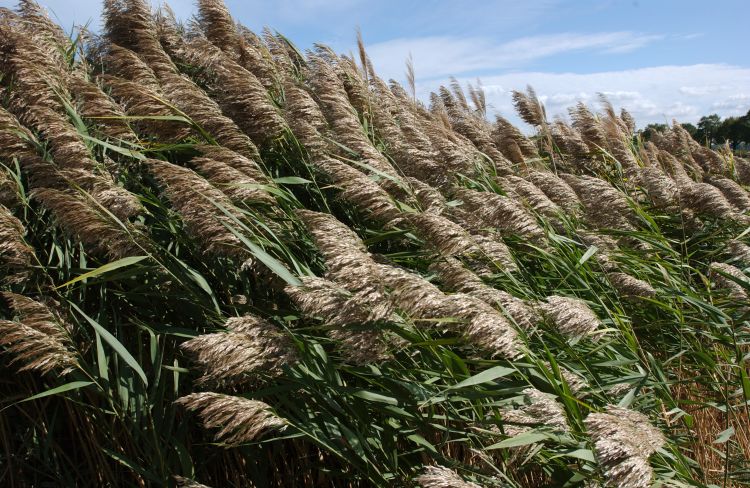 Few invasive plant species have managed to change the Saginaw Bay shoreline as much as Phragmites australis also known as common reed or simply Phragmites. Phragmites is a tall grass that grows in wetlands, ditches, shorelines and roadsides. This aggressive invasive grass regularly grows to be 15 feet tall and forms dense stands with up to 200 plants in a three foot square area. Phragmites spreads rapidly both through airborne seed dispersal and through underground stems called rhizomes.
Once it moves into an area Phragmites outcompetes native species for resources, displacing native plants and animals. In Saginaw Bay this has negative impacts on fisheries health, waterfowl abundance and wetland biodiversity. Tall dense stands of Phragmites also interfere with recreational use limiting water access for hikers, boaters and beachgoers. The plant can even reduce waterfront property values by blocking views. Michigan Sea Grant and Michigan State University Extension offer a variety of educational resources and programming on Phragmites and invasive species in Michigan.
Over the past few years several Phragmites treatment projects have helped reclaim Saginaw Bay shoreline and wetland habitat from this invasive grass.
A new series of free public workshops planned in the region will provide information on current efforts to control Phragmites across Saginaw Bay as well as give practical information for landowners on how to treat Phragmites on their property and how to enroll in larger group treatment programs. The workshops are the result of a collaboration of several regional and local partners including the Arenac County Soil Conservation District, Chippewa Nature Center, Little Forks Conservancy, Michigan Sea Grant, MSU Extension, Saginaw Bay Coastal Initiative, Saginaw Bay Cooperative Invasive Species Management Area, Tuscola County and Tuscola County Economic Development Corporation.
Workshops are free and no registration is required (except in Midland County).
Workshop dates and times:

ARENAC COUNTY:
March 3, 2016 | 6-9 p.m.
Au Gres High School
310 Court St. Au Gres MI 48703
TUSCOLA COUNTY:
March 10, 2016 | 6-8:30 p.m.
Tuscola Technology Center
1401 Cleaver Rd, Caro MI 48723
MIDLAND COUNTY:
March 16, 2016 | 6:30-8:30 p.m.
Chippewa Nature Center
400 S Badour Rd, Midland MI 48640
*For the Midland workshop participants are asked to register by calling (989) 631-0830.
BAY COUNTY:
April 7, 2016 | 6-8:30 p.m.
Bay City State Recreation Area
3582 State Park Dr, Bay City MI 48706
For general questions on the workshop series or for more information contact hintzen@msu.edu or (989) 891-7198.
Michigan Sea Grant helps to foster economic growth and protect Michigan's coastal, Great Lakes resources through education, research and outreach. A collaborative effort of the University of Michigan and Michigan State University and its MSU Extension, Michigan Sea Grant is part of the NOAA-National Sea Grant network of 33 university-based programs.