Sea Grant 50th Anniversary: Celebrating the work of our Extension program
Growing up on a Michigan farm and wondering how the environment was linked with agriculture, community and economic development, influenced career choice, says Heather Triezenberg, Michigan Sea Grant Extension program leader.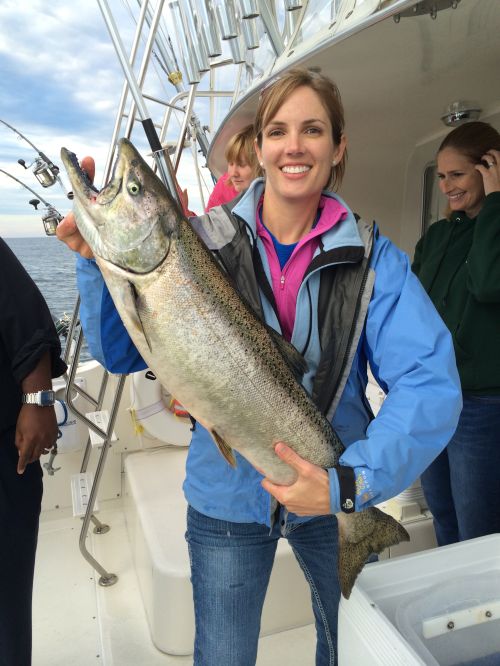 In 2016, the National Sea Grant College Program celebrates 50 years of putting science to work for America's coastal communities.
Sea Grant is a federal-state partnership that turns research into action by supporting science-based, environmentally sustainable practices that ensure coastal communities remain engines of economic growth in a rapidly changing world. There are 33 programs across the country working to help build and grow innovative businesses along America's oceans and Great Lakes, protect against environmental destruction and natural disasters, and train the next generation of leaders.
Established in 1969, Michigan Sea Grant, is a collaboration between Michigan State University and the University of Michigan. We offer research, education and community outreach on topics such as aquatic invasive species, coastal development, commercial and sports fishing, and environmental stewardship for youth.
Our MSU Extension educators live and work in coastal communities around Michigan. We celebrate their hard work and take this opportunity to introduce each of them during this anniversary year.
Heather Triezenberg is located in East Lansing at Michigan State University and serves the state as program leader for Michigan Sea Grant's Extension Programming and also as an Extension Specialist.
Heather's background is in fisheries and wildlife management and adult education, with bachelor's and master's degrees from Michigan State University's Department of Fisheries and Wildlife. Her doctorate is in natural resources policy and management, with minors in communication, and city and regional planning, from Cornell University. She also serves as an at-large member on the national Assembly of Sea Grant Extension program leaders.
Before joining the Michigan Sea Grant team, in 2014, Heather was an education director with the Clinton River Watershed Council, watershed planner with Eaton Conservation District, research associate and instructor with the departments of Fisheries and Wildlife and Geography at MSU, and a social scientist with the National Sea Grant Office with the National Oceanic and Atmospheric Administration.
Heather's current Sea Grant Extension work includes working with colleagues on stakeholder needs assessments and strategic planning, development and student engagement, providing technical expertise on human dimensions of natural resources to various working groups in the state, mentoring and advising graduate students on community-engaged applied research, and providing overall leadership for our statewide program coordination and integration with the various units at Michigan State University.
What made you decide to be an extension specialist?
I grew up on a vegetable farm near Lake Huron. As a kid, I was fascinated with the fisheries in the agricultural ditches between our farm fields and the amphibians in the wooded wetlands, so from an early age I wondered how the environment was linked with agriculture, community and economic development.
While a student at MSU, I gained exposure to Extension programming and Project F.I.S.H. through my work with Shari Dann and Mark Stephens. Then, when I worked on my doctorate, I really saw the connections among engagement with information users with applied research that produced science-based information that people actually needed to answer the policy questions they had.
This model of engagement helped to ensure researchers understood what questions were important to decision-makers, that the inquiry process was sound, and when the results were ready that the information users were engaged in a conversation about the policy and practice implications, limitations, and next steps. When I saw an opportunity to do this as an Extension Specialist … I knew it was the career for me!
Do you have any advice for students who might want to pursue a career with an environmental focus?
Be curious. Ask questions; ask what questions your partners may have; ask who has data to help answer some of the questions; ask who has some ideas for solutions to the problems; ask LOTS OF QUESTIONS. If students want a career with an environmental focus, then learning how the impacts on the environment that we see are connected to other things will be highly beneficial.
If you could get people to follow just one piece of conservation advice what would it be?
Think in systems, local to global scales. Most of the environmental problems we observe are connected to larger drivers of change. What that means is that the environmental problems we see today are often the result of system drivers from something in the past or current, or what our scientific modeling predicts about the future.
When we observe environmental problems, we know they affect other parts of the system. As actors in the systems, each person has a role in identify the connections (the drivers and the consequences of the problems we see), frame the questions for addressing the problems, access data to inform decision making, and to look for how systems respond after actions have been implemented.