Selling your crop to Michigan institutions this summer
Considering expanding your markets? Read on to learn about the benefits of selling to institutions and some resources to help you get started.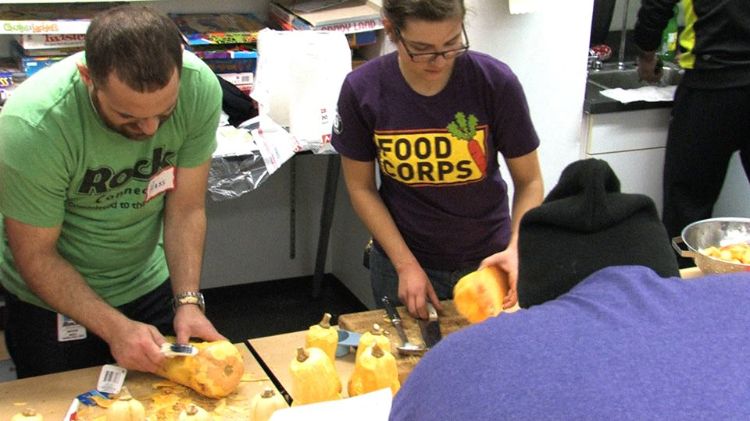 With Michigan's growing season nearly upon us, it can be helpful to stop and consider new markets for your products this year. Depending on what type of operation you have, most of your product may already have a destination. Other growers may not have such a clear idea of where their products will end up. This article provides an overview of "Farm to Institution" and could help farmers determine if selling to Michigan institutions, like schools and hospitals, is the right thing to do.
There are many benefits to selling to institutions if you can successfully establish a relationship with an institutional purchaser. These purchasers are often looking for large volumes of products, on a regular and predictable schedule. Many institutions are willing to accept seconds, depending on the product, and could provide a market for goods that are otherwise difficult to sell in direct markets. Some purchasers are willing to create a plan with growers for the upcoming season and commit to purchasing specific quantities.
One common issue faced by growers trying to sell to schools is that the school year is opposite of the growing season in Michigan. This is true for the majority of school programs, however, summer school food programs are a great opportunity to test the waters. These programs are often smaller, and may be able to dedicate more time to purchasing local. This may give growers the opportunity to develop systems of selling and communication with school purchasers, which could lead to larger sales in the future.
Michigan hospitals have made movement toward purchasing more local foods as well. Hospital food service runs year round, and provides another opportunity to sell large volumes of Michigan products during the peak growing season.
Fortunately, there are a number of resources to help producers figure out how to prepare to sell to institutions. The MSU Center for Regional Food Systems has published a guide for producers on how to sell their products to institutions, entitled "Marketing Michigan Products: A Step-by-Step Guide." This guide walks producers through recommended considerations and preparations necessary to sell to institutions. These recommendations can be helpful to any grower, whether new to wholesaling or very comfortable with it.
The Michigan Farm to Institution Network can also be a resource for producers interested in selling to institutions, and to those that already do. The network is made up of institutional purchasers, distributors, producers, and farm to institution advocates. Producers that already sell to institutions can use this space to learn from one another about what works and address challenges together.
Michigan State University Extension supports sales of Michigan agricultural products to institutions around the state, to encourage healthy residents and abundant opportunities for Michigan producers.