Southwest Michigan field crop regional report – June 4, 2015
The 2015 growing season is catching up from a slow start in terms of soil moisture and soil temperatures.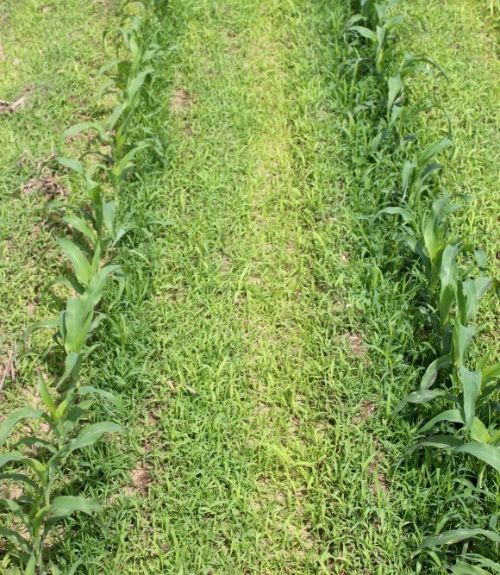 Warm and dry conditions came in two stretches, one in late April/early May and one in mid-May, and presented growers with the best windows of opportunity to get the majority of corn and soybeans in the ground. As you might expect, we have wide variations in plant growth and development in both of these crops across the region.
Spread out plantings often make timely applications of herbicides more problematic for growers with limited manpower and equipment. Despite this, the actual crops are looking quite good across the region, even following a couple of significant bouts of cold weather and light frosts in many areas.
Weather
As mentioned above, the weather has been on a roller coaster ride. May had both extreme cold and heat in the southwest region. Growing degree day (GDD) totals since May 1 vary around the 450 mark. Rainfall totals across the region are shown below. Most areas have received between 1-2 inches above normal precipitation (3 inches or so) for the period. Early applied nitrogen (N) has had some chances to leach, particularly at a rainy period at the end of May. Warmer, drier conditions this week have helped producers get back in the fields.
Crop reports
Most of the areas commercial corn was planted in the first window (late April, early May), but there was a lot planted around May 16. The earliest planted corn is at the sidedress window right now with plants at five to six leaf collars being observed. I have not seen cutworm damage in corn, although moths must have arrived from the south given the early push of warm air.
Annual grasses and broadleaf weed species are prevalent in fields where pre-emergent herbicides were delayed in application. The typical thought is that competition from weed species ramps up by the third to fourth week after emergence. For those of you planning on using delayed pre-emergence programs, keep in mind that reach-back on grass weed species can be very limited if the weed seedlings are more than 0.75-1 inch in height.
Using delayed pre-emergence herbicide applications? Michigan State University Extension weed control specialist Christy Sprague wrote an excellent article in 2014 on weed control strategies in corn with delayed planting dates. Remember, this article was written in 2014, so be sure to look up Table 1G., Page 53 (35 out of 38) for the 2015 year.
Cool and wet conditions following early post or delayed pre-herbicide applications did help intensify injury symptoms on some fields. As we have returned to more normal temperatures and sunshine, most of these are going away quite quickly.
If you used organophosphate (OP) soil insecticides at planting, be aware of potential interactions with herbicides. The main classes of herbicides with the restrictions are ALS inhibitors and HPPD inhibitors. The plants use the same metabolic pathways to metabolize these materials, and injury can result.
Sidedress N applications are beginning to get underway. Heavy rainfall over last weekend potentially did move some nitrogen below the developing root systems on sandier soils. Rainfall intensity was highly variable across the region. Presidedress Nitrate Nitrogen Tests (PSNT) tests can be used to help determine the amount of N remaining from manure or early spring applications of N.
Early planted soybeans are looking quite good. Advanced beans are V1 to early V2. Many of the beans are at the VC growth stage or just emerging. Stands appear to be good across most of the fields I have walked.
Early planted wheat has headed out. Prolonged periods of wet weather during the early flowering period is the most likely to have challenges with Fusarium head blight development. Later planted fields are just beginning to reach head emergence. Flag leaves appear fairly clean from leaf diseases in the fields I have walked. Continue to monitor fields for armyworm larvae. Armyworms leave ragged leaf edges. Early detection of leaf diseases moving up the canopy or armyworm feeding can help growers protect the flag leaf, which provides the majority of the energy for the developing kernels. MSU Extension wheat educator Martin Nagelkirk authors an excellent article on wheat production and management.
Alfalfa growers have been taking advantage of the bright sunshine the last few days to harvest first cutting alfalfa. A vast majority of hay out there has been cut during this window. It remains to be seen how much will be put up before rains in the forecast reach the region. Growers should watch the regrowth carefully for alfalfa weevil larvae. Potato leafhoppers are also much more problematic when the plants are smaller.