Steps to developing a Veterinarian-Client-Patient Relationship
Be prepared for the unexpected when raising animals by developing a Veterinarian-Client-Patient Relationship.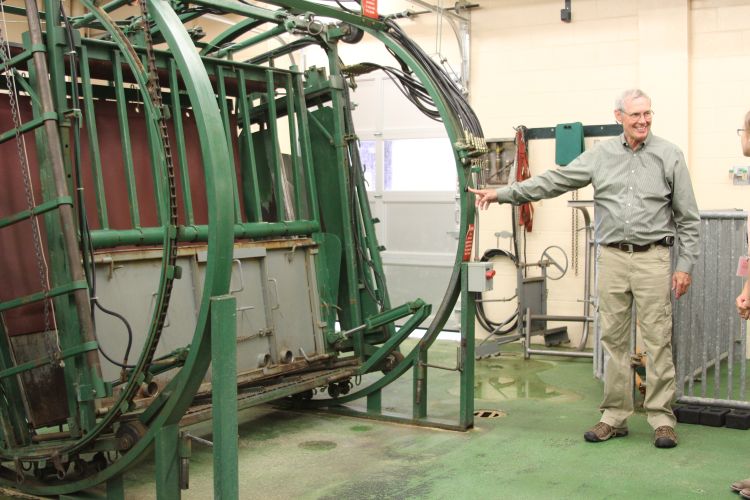 When working with animals, just about anything can happen. The larger the animals, often the larger the concern. Michigan 4-H members are encouraged to think about the larger picture of animal care and wellbeing in their management strategies and be proactive. Part of that is having a plan in case everything doesn't going exactly to plan. One of your first steps of caring for an animal should be developing a Veterinarian-Client-Patient Relationship(VCPR). This relationship will help you make decisions about animal care and health.
Find the veterinarian that is right for you
Michigan is home to many great veterinarians across the state who focus on different species. It is important to find a veterinarian who works with the species of animals that you raise. This will allow you to receive the most up-to-date information and make the best medical decisions for your animals. For example, if an individual specializes in small animals such as cats and dogs, they may not be the best choice for your steer project. It is alright to ask questions about what people feel comfortable working with to make sure you have the right fit. The Michigan Veterinary Medical Association has a listing of veterinarians at Find-A-Vet. You can also look online or ask around, including talking with other 4-H club members.
Don't be surprised: have a budget for animal medical expenses
The veterinarian is providing you a service whenever they see your animals. Realize this and plan ahead, including having a budget for animal medical expenses. Although we can't predict all expenses, it is appropriate to ask what a farm visit will cost if your animal needs medical care or access to certain medicated feeds or prescription drugs. By having an established VCPR, you will be able to easily get a Veterinary Feed Directive (VFD). The VFD is a requirement put forth by the Food and Drug Administration (FDA) with impacts that will be seen across the country. For more information, see my article, "Veterinary Feed Directive impact on youth exhibitors."
Don't delay
When an animal is sick, it is not the right time to find a veterinarian. In cases of animal health that require veterinarian assistance, you want to be prepared and have an individual or animal health practice that can assist you to treat the issue as quickly as possible. This not only helps you address the concern, but is the most humane for the animal. Additionally, as of Jan. 1, 2017, if you purchase feed that requires a VFD, you will need a veterinarian. Learn more about the resources developed by the Michigan Department of Agriculture and Rural Development (MDARD) by visiting their Youth webpage.
Michigan State University Extension and the Michigan 4-H Youth Development program help to create a community excited about STEM (Science, Technology, Engineering, and Mathematics). 4-H STEM programming seeks to increase science literacy, introducing youth to the experiential learning process that helps them to build problem-solving, critical-thinking and decision-making skills. Youth who participate in 4-H STEM content are better equipped with critical life skills necessary for future success. To learn more about the positive impact of Michigan 4-H youth in STEM literacy programs, read our 2015 Impact Report: "Building Science Literacy and Future STEM Professionals."