Take your kids to farmers markets
Your local farmers market lends itself well to teaching kids about fruits and vegetables, but even more learning can happen.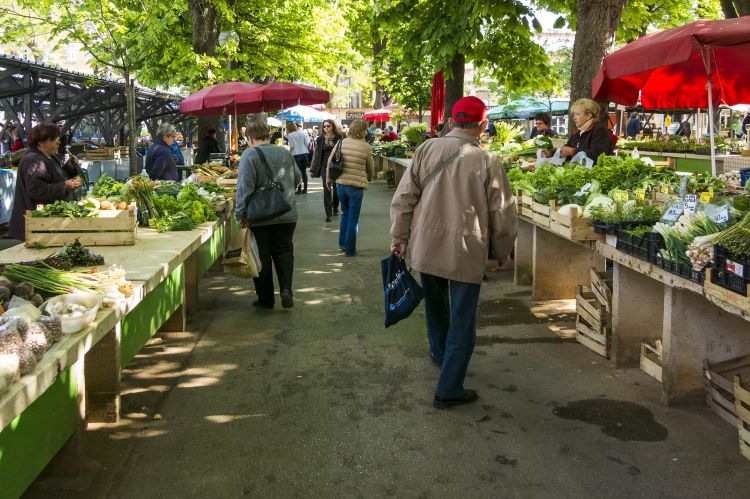 A visit to the local farmer's market is not just an opportunity to support local growers or to buy fresh fruits and vegetables, but also much more. Many markets offer plants, cut flowers, honey, maple syrup, jams, jellies, baked goods, soap, wool, cheese and different meats that are all farmed locally. What a learning experience for your kids! Check out these tips for a successful visit:
Set aside enough time for the visit; plan at least an hour to check out each booth especially if this is a first visit for your kids.
Plan so that what your kids find at the market can be part of lunch or dinner. This is a great time to add something new to the menu.
Give each child a dollar or two so they have the freedom to decide what they want to try – their choices may surprise and delight you.
Take this opportunity to talk about the importance of eating a variety of fruits and vegetables and follow through by making your purchases colorful and varied.
If your kids are unfamiliar with gardening, this would be a perfect time to discuss how the fruits and vegetables grow to become what they see at the market. Most growers would be happy to spend a short amount of time talking with kids about their products. This is true for those who produce other items found at the market.
The market could be the first stop on a day filled with new experiences. If the market is located in an area of town you are not familiar with, check out the neighborhood, you never know what treasures you will find. What about visiting a market in a nearby town? Do some homework in advance, maybe the town has a lake or a playground close to the market. Some of the best times with family are not huge vacation productions, just relaxed quiet time for catching up with each other.
Food safety can be an issue if you plan to shop and not return directly home. Preparing a cooler to bring with you is a great idea. Learn about food safety before you visit a market. For information on this topic: http://msue.anr.msu.edu/news/food_safety_at_farmers_markets
Area markets are gearing up for the summer season, the time is now to feast our eyes and our taste buds on all that a farmer's market has to offer. Support your local farmers by visiting often, each visit can bring something new to discover and enjoy. Farmers markets can be found all over our state. For a list of markets across Michigan, visit this site: www.farmersmarketonline.com/fm/Michigan.html