The Great Lakes Education Program completes 23rd year with continued growth
The Great Lakes Education Program completed 2013 working with Ypsilanti New Tech High School students to address global warming and environmental issues.
Students from Ypsilanti New Tech High School (YNT) are partnering with a research team to address global warming issues. This collaborative team includes the University of Michigan College of Engineering, the UM Center for Engineering Diversity & Outreach, the UM School of Natural Resources & Environment, and Michigan Sea Grant.
The YNT students were asked to analyze claims made about climate change and water quality in the Great Lakes from a variety of perspectives. Reflecting on claims made by biologists, chemists, and climate scientists, as well as by economists, public policy makers, and historians, the students have been challenged to weigh the evidence (data) being made to support claims made by different disciplines and make decisions as to whether or not the information is credible, and, thus, believable.
As part of their research, the YNT students joined the Great Lakes Education Program (GLEP) crew for a hands-on shipboard research and education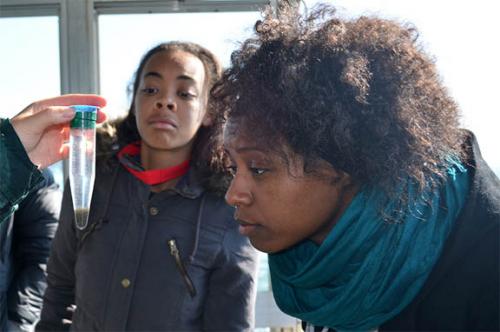 cruise on the lower Detroit River. Michigan State University Extension and Michigan Sea Grant provide GLEP education to schools throughout coastal SE Michigan. The typical GLEP program—normally tailored to elementary and middle school students—was modified to challenge and meet the research needs of the YNT students.
While on the water, the students were able to collect data and make observations. The students conducted chemical analysis for phosphorus, nitrogen, pH, dissolved oxygen, and carbon dioxide. Other water quality and environmental measurements were observed and measured, including water temperature, water clarity, weather, marine debris, and benthic samples.
This data was taken back to the classroom to be analyzed and entered into FieldScope. Great Lakes FieldScope is an interactive mapping platform, collaboratively produced by National Geographic and Michigan Sea Grant, which extends the tools of exploration and investigation to everyday science enthusiasts. This digital tool enables citizen scientists to share, document and understand the world around them, both in the classroom and in outdoor settings. Great Lakes FieldScope is a project that invites participants to explore maps and graphs and contribute water quality data from across the Great Lakes watershed region. This tool, in conjunctio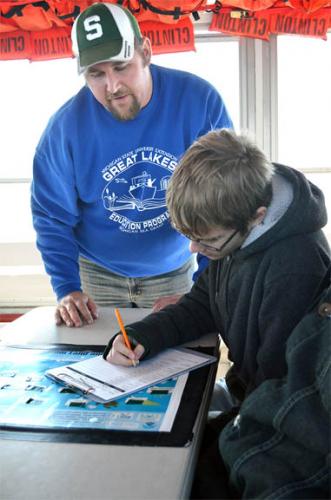 n with lessons from Michigan Sea Grant's Teaching Great Lakes Science website, give teachers and students fully developed and ready-to-use lessons and activities to make it easier to teach not just Great Lakes science but also broader concepts of earth and life sciences.
Beyond providing an opportunity for data collection, the GLEP cruise gave YNT students an experience that many of them have not had—being out on the water. It is difficult for individuals to care about a resource they have not experienced or know little about. Providing such an experience like this affords a sense of ownership and stewardship. When you combine understanding and stewardship, you have Great Lakes literacy—the primary goal of GLEP education.
The culmination of this YNT student project will be a poster and discussion session to take place at the University of Michigan at the Lurie Engineering Center on December 17, 2013. GLEP staff will attend to see the end product of this innovative project. What a great way to complete the 2013 GLEP season, during which nearly 4,000 students, more than 600 adult chaperones, and 135 teachers from 31 school districts in Wayne, Macomb, Monroe and Washtenaw counties were involved in Great Lakes studies. We look forward to 2014, when we will involve our 100,000th participant in Great Lakes learning!