Use CoastWatch for fantastic fishing this spring
Great Lakes anglers can use online satellite images to find warm water that concentrates feeding trout and salmon.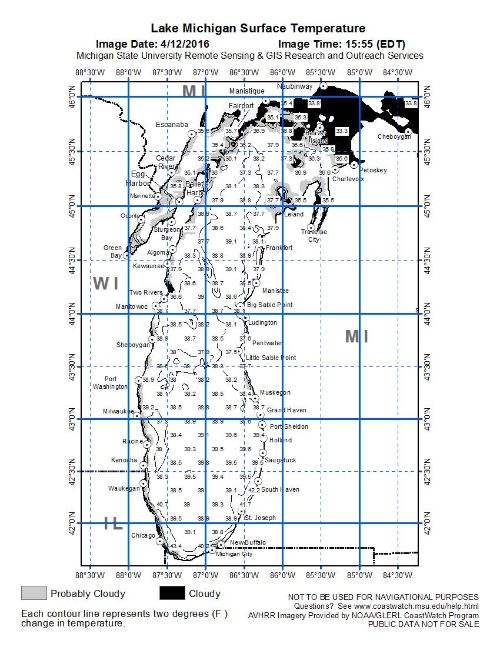 Temperature is one of the most important factors influencing fish location and behavior. This is especially true as waters begin to warm up in spring. Being cold-blooded, fish tend to feed more aggressively as winter fades.
Lake Michigan is an immense water body that warms slowly. Nearshore waters at the southern end of the lake tend to warm first, but winds and currents can push warm water into some areas and out of others. The best way for anglers to find out which ports have the warmest water on a given day is Sea Grant's CoastWatch.
For more than twenty years, CoastWatch has been providing anglers with Great Lakes water temperature charts based on satellite data. In summer, Lake Michigan anglers use CoastWatch to find thermal bars or "scum lines" that attract feeding steelhead and other fish. In fall, CoastWatch can help pier and river anglers locate pre-spawn salmon. Springtime offers anglers two new ways to use CoastWatch.
One popular method of fishing for early season coho salmon, brown trout, and steelhead is small boat trolling. Anglers trailer their boats to take advantage of fast fishing, which has been particularly good for larger-than-average coho salmon this year. CoastWatch can help anglers decide how far they need to drive to find the warm nearshore water that leads to a hot bite. A degree or two can make all the difference at this time of year.
Inland anglers can also benefit from checking CoastWatch to predict the timing of the spring steelhead run. Although steelhead often make a smaller run in fall and trickle into rivers through the winter, the spring spawning run is usually the most popular and productive time to fish for steelhead in Great Lakes tributaries. Successful steelhead anglers keep a close eye on USGS Daily Streamflow, which provides flow and temperature data for many rivers, but only a few river anglers realize that Great Lakes temperature from CoastWatch can be equally important.
The steelhead run is best when inflowing river water is warmer than Great Lakes water at the mouth of the river. CoastWatch can sometimes pinpoint location of warm river plumes, and anglers also can use USGS data or their own stream temperature measurements to make comparisons to CoastWatch temperatures and find ideal conditions for steelhead migration into their favorite streams.
Michigan Sea Grantand Michigan State University Extension developed CoastWatch in cooperation with the National Oceanic and Atmospheric Administration's Great Lakes Environmental Research Laboratory, Michigan State University's Agriculture and Natural Resources Computer Services and Institute of Water Research, and with the support and assistance of user groups such as the Michigan Charter Boat Association. Michigan Sea Grant and MSU Remote Sensing & GIS Research and Outreach Services maintain the site.
Michigan Sea Grant helps to foster economic growth and protect Michigan's coastal, Great Lakes resources through education, research and outreach. A collaborative effort of the University of Michigan and Michigan State University and its MSU Extension, Michigan Sea Grant is part of the NOAA-National Sea Grant network of 33 university-based programs.