Western bean cutworm peak flight is occurring in dry beans
Begin scouting central and northern Michigan dry beans for western bean cutworms.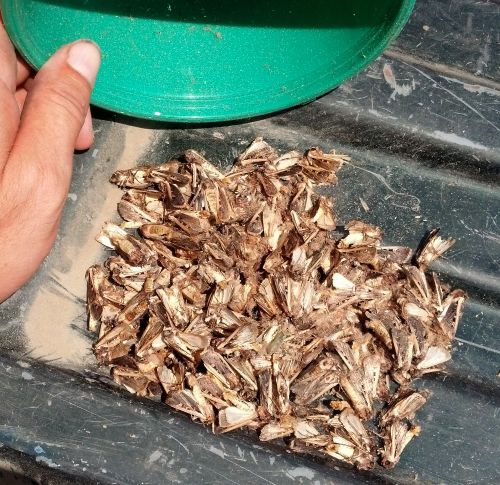 Western bean cutworm peak flight is occurring this week in central Michigan and is likely to impact dry beans. Western bean cutworm feeding injury to pods causes quality issues in harvest beans, particularly the large seeded classes such as kidney and cranberry beans. Overall, flight in central Michigan is larger than what we saw in the 2015 season, in which low levels of damage to unsprayed kidney beans was noted in several areas. The intensity of flight is still a bit below the levels we saw from 2009-2012 when damage was widespread.
Cumulative western bean cutworm trap catch as of Aug. 1, 2016

Location

Trap catch

Central Michigan

Sidney

748

Greenville

278

Beal City (three days)

303

Stanton

147

West Michigan

Howard City

426

Coral 1

169

Coral 2

181

Hart

61

Upper Peninsula

Cooks

120

Garden 1

119

Garden 2

270

Fayette

147
To spray or not to spray?
Generally, pheromone trap catches of 150 moths or more per trap is cause for concern, especially when egg masses are readily found in pre-tassel corn. This year, much of the corn crop is at tassel emergence or beyond during peak moth flight and has not been attractive to western bean cutworm moths depositing eggs.
Michigan State University Extension advises growers to scout dry bean fields for signs of western bean cutworm pod feeding. By the second to third week of August, feeding injury from larvae will be detectable with careful scouting. Remember that larvae feed at night and will be difficult to find during the day, so focus on feeding injury. Spray an insecticide if pod injury, attributable to western bean cutworms, is found.
Check with your market. If your market is particularly quality sensitive, your marketer/broker may want you to apply an insecticide for western bean cutworms this year to assure low levels of insect damage.
Applying insecticides
Time applications of pyrethroids for the second week of August. Egg masses deposited in dry bean fields during July 25-30 will hatch in five to six days. Flight will continue and egg masses will potentially be deposited in dry beans into the first week to 10 days of August. Delaying applications until near the end of flight should maximize pod protection. Be sure to observe pre-harvest intervals listed on all pesticide labels.
Scout for spider mites before applying pyrethroids! Most pyrethroids will not kill spider mites but will reduce the number of insects that feed on mites and keep the mite population in check. If you are in an area that spider mite populations have been increasing, consider the risk of flaring mite populations.
In many bean fields in west Michigan, 30-inch rows are already closed. To minimize crop damage, utilize aerial application if possible. Aerial application avoids additional wheel traffic and associated damage and still provides adequate insecticide coverage.
It is also important to note that the observed flight is not uniform, nearly all traps are catching moderate to high numbers of adult western bean cutworm moths. I suspect there may be areas of lighter flight where we do not have traps. Scouting fields for pod damage in mid-August should alert you to these areas.
I would like to thank Jim Isleib, Paul Gross and Ben Werling of MSU Extension and all the grower cooperators who are checking traps and have stuck with this western bean cutworm monitoring project.